Town of Castle Rock considers financial agreement for new development on old landfill
April 1, 2017
/
/
Comments Off

on Town of Castle Rock considers financial agreement for new development on old landfill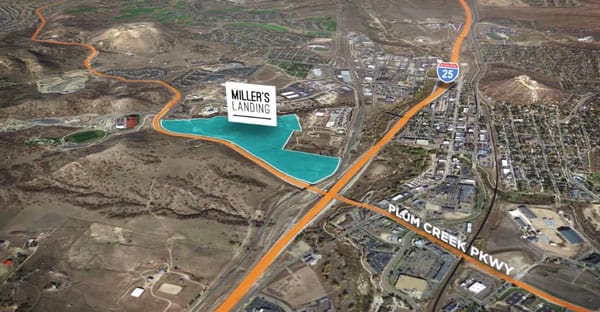 Location of proposed new development in Castle Rock to be built on previous landfill site.
Submitted by the Town of Castle Rock
A new development is proposed near the intersection of I-25 and Plum Creek Parkway. In March, Town Council postponed consideration on second reading of a finance agreement with the proposed developer, which would help remediate an old landfill on the property and pave the way for new amenities.

Citadel Development LLC proposed a new 65-acre development on an area known as Miller's Landing – located on the northwest corner of I-25 and Plum Creek Parkway, near Philip S. Miller Park. Citadel's development plan includes office and retail space, a hotel and more.

While zoned for commercial use, the land area has traditionally been undesirable to developers due to the necessary remediation of the old dump. Castle Rock Urban Renewal Authority – an entity that exists to facilitate investment and redevelopment in such areas within the Town – recently deemed this area as "blighted," which allows for additional tax-sharing to clean up the property and foster economic development.

Town Council is considering a financial agreement that includes sharing back 60 percent of the sales tax and 100 percent of the property tax generated from new amenities on the property for a specified amount of time. The agreement does not include allocation of any current Town funds. Instead, the Town would be sharing future revenue generated by a new project.
For more information or to view the submitted documents, visit CRgov.com/MillersLanding. In addition, the developer has created a video to describe the project: vimeo.com/202215947.