TTE Girl Scout Brownie troop looks to change the world
April 1, 2017
/
/
Comments Off

on TTE Girl Scout Brownie troop looks to change the world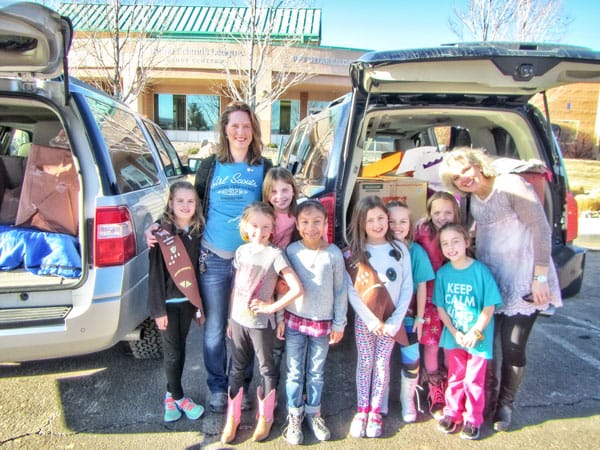 As part of Girl Scout Brownie Troop 844's "It's Your World, Change It" Quest Journey, the girls delivered supplies and toys to the Buddy Center. They are pictured here with leaders Amy Ball (left) and Kristie Peters (right).
By Lynne Marsala Basche; photos courtesy of Amy Ball
Thanks to Timber Trail Elementary (TTE) Girl Scout Brownie Troop 844's community service work, four-legged residents at the Denver Dumb Friends League (DDFL) Buddy Center are purrfectly content and ruffing it less while waiting to be adopted into their forever homes.
Troop 844 includes eight TTE second grade girls under the leadership of Castle Pines residents Amy Ball and Kristie Peters. The girls have been working on their Brownie Quest Journey, and this segment had a theme of "It's Your World, Change It." As part of the project, Ball explained to the girls how to take care of themselves, their Girl Scout sisters and their community.
During their Quest Journey, the girls realized that animals who need homes are also a part of their community, and they wanted to support them as well. Troop 844 decided to collect supplies for the DDFL Buddy Center. Using the organization's wish list, the girls created posters and placed collection boxes throughout TTE. To generate interest and enthusiasm, the girls also announced the drive each day on the TTE morning announcements.
"We wanted to teach the girls that helping your community can be rewarding and fun. By encouraging community service, we will help mååake volunteering and helping others (including animals) a natural way of life for the girls," said Ball. "We also wanted to find other ways of helping the animals besides adopting them, which isn't always an option for some families that love animals."
In addition to collecting donations, Troop 844 made dried sweet potato chew ropes, catnip and feather recycled sock toys for the animals. Ultimately, three SUV trunks were filled with contributions and toys and delivered to the Buddy Center on March 2.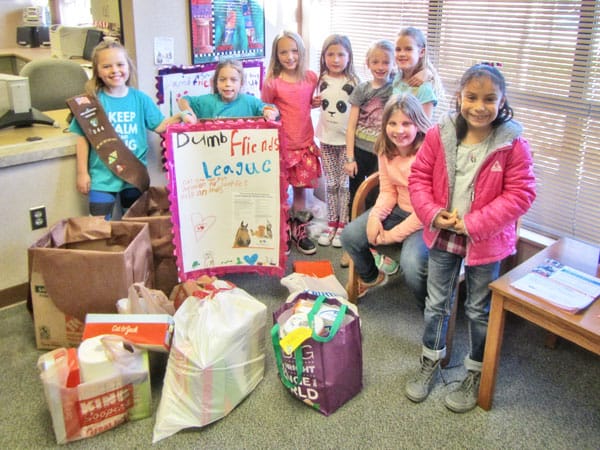 Troop 844 made posters, generated enthusiasm by participating in TTE morning announcements, and placed boxes throughout TTE.
Brownies Evelyn Ball and Claire Peters were excited to help animals and happy to make toys to keep the animals from getting bored. Going to see the Buddy Center's cute residents was a bonus!
Ball said, "I am really proud of our Brownie girls' enthusiasm and excitement toward helping animals. They worked well as a team and have such kind, generous souls. I hope they are inspired to continue to share their love for animals with the community by encouraging volunteering outside of Girl Scouts."
Troop 844 will be starting a new Brownie Quest Journey, "It's Your Planet, Love It!" and will focus on the Wonders of Water. The girls are excited to learn about water and visit a water treatment center. As part of this Journey, the girls will create a recycling project that will help protect our water.