U9 Raptors take the title
July 1, 2017
/
/
Comments Off

on U9 Raptors take the title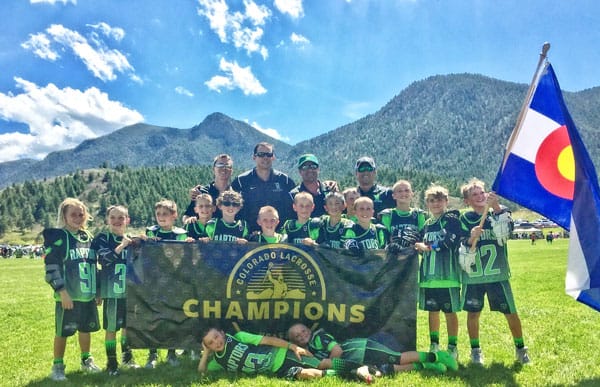 U9 third-grade elite champions at USAFA on June 4 (pictured from left to right) back row: Coach Rob Smith, Head Coach Ray Cross, Coach Jeff Genuario, Coach Carlos Aragon, (Coach Justin Kliewer not shown); middle row: Alexander Brown, Patrick Mulstay, Cole Kliewer, James Cross, Aiden Mitchell, Spencer Smith, Jace Vaserbinder, Cayden Aragon, Parker Schultz, Wilson Ptacek, Mark Bowman, Tyler Sanchez and Owen Heersink; front row: Parker Honig and Dylan Genuario.

By Kathy Fallert; photo courtesy of Jen Kliewer
Douglas County Raptors U9 lacrosse team had an incredible lacrosse season, which included winning the U9 AYL Championship at the University of Denver's (DU) Barton Stadium on May 20, as well as having a dominant performance at the Colorado Lacrosse Championship at the United States Air Force Academy (USAFA) in Colorado Springs on June 3 and 4, making them the third-grade elite champions in the state of Colorado.
The team had an undefeated season, which culminated in a nail-biter against the Spartans at DU with player number 2 James Cross making a sudden death overtime score with only seconds left on the clock. The championship at the USAFA tournament ended with a 9-1 victory for the Raptors.
Most of the boys attend American Academy, Aspen View, Clear Sky, Sage Canyon and Timber Trail Elementary, and many of them have trained with Rock Canyon High School lacrosse star Colton Jackson who plays for DU.
Head Coach Ray Cross said, "I have been working with this group of boys since they were in kindergarten and first grade, and it's truly been a pleasure watching them develop. They are a close-knit group of boys who work hard and understand the meaning of team. I can't say enough good things about them."