April 1, 2019
/
/
Comments Off

on Ushering in the rockies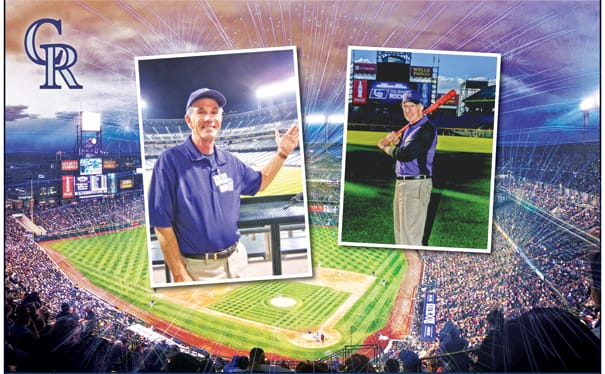 When Dave Van Voorhis enjoys a "day at the park" it is at Coors Field along with several thousand other Colorado Rockies fans. As the 2019 Major League baseball season kicks off, Van Voorhis is proud to be a part of the Rockies team of ushers who dedicate themselves to making the fan experience enjoyable.


By Lynn Zahorik; photos courtesy of Dave Van Voorhis
On April 5, with much fanfare, the Colorado Rockies will open their season at Coors Field against the Los Angeles Dodgers. Rockies usher and Castle Pines resident Dave Van Voorhis will be enjoying the action along with a sold out crowd. In his seventh season as an usher, he has high hopes for his beloved Rockies, who brought Rocktober back to Colorado when they made it to the National League Division Series in 2018.
Van Voorhis works in the suite section of Coors Field where there are 56 suites that offer indoor comfort, stadium seats and A-plus catering options. His typical day begins two hours prior to the start of the game when the usher team gathers together to receive an outline of the special events, promotions and pertinent information about the game. His ushering duties include ensuring suite ticket access, assisting guests with their seat location and answering questions of all sorts about the ballpark and food selections.
Van Voorhis enjoys working with his usher teammates, most of whom are retired and some have worked there for 15 to 20 years. They have monthly breakfasts in the offseason and gather for dinners following some afternoon games. "I can speak for my teammates that we collectively strive to ensure a positive experience for our guests," said Van Voorhis. "I have worked in customer service my entire career and enjoy that aspect of the job."

Throughout their 26 years of marriage, Carol and Dave Van Voorhis have shared a love for travel. Their favorite places to explore are the Hawaiian Islands and Winter Park. They are pictured here enjoying a winery near Palisades, Colorado.

Born in Wisconsin, Van Voorhis moved to Northglenn, Colorado when he was 10 years old. After college, he began his 34 year career with American Airlines. He started off in the reservations department where he met his wife, Carol. They moved back to Colorado in 1985, first landing in Colorado Springs and then in Castle Pines when Van Voorhis worked at Denver International Airport as a customer service manager until retiring in 2012.
The year Van Voorhis was hired as a Rockies usher was a spring full of snow. "I was working outside and kept telling myself to remember those warm June nights!" remarked Van Voorhis. Ushering is a great fit for him as it is part-time work, six months a year.
He averages 72 games a year within the 81 home game season. Working for the Rockies helps pay for his off-season passions of golfing and skiing. "Of course it is always more fun when the team is winning," reflects Van Voorhis. "The last two years have been great!"