What's your APPtitude? Can you commit to one second everyday?
January 1, 2019
/
/
Comments Off

on What's your APPtitude? Can you commit to one second everyday?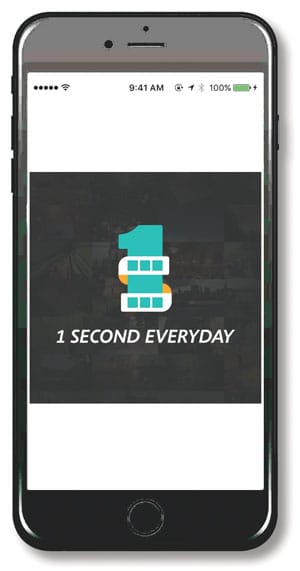 By Amanda Merriman
To say that time moves fast is an understatement. As months and years roll by, I find myself wishing there was a way to (if not slow things down) at least remember the little things a little better. I always loved the idea of a diary but lacked the dedication to write in one beyond the first few days.
Thankfully, 1 Second Everyday (1SE) is an app that achieves capturing these moments. The basic version of the app costs $4.99 through the Apple store and is free for Android devices. The concept is simple: Make a one second video of your day and add some notes to it, if you like. These snippets are put together in the form of a movie. You can decide the length of time your movie spans. Additionally, the app will make an "InstaMash" of all your photos and videos on Instagram. I gave this a try and enjoyed looking at all of my pictures through the years. I was also able to add other photos and videos from my phone to past dates to get a jump-start on my video diary. I love the idea of the app having the dates from my old photos without me having to remember them!
1SE can send you reminders to make recordings, to keep you on track with your goals. I love how you can create multiple timelines with the app. For instance, I created one for each of my children in addition to one for my life as a whole. I wish I had this app when the kids were babies, but I know I'll cherish having a video of them growing up from the ages they are at now. The options with 1SE are unlimited. I may add a separate stream to document my accomplishments in running.
There is an option to upgrade to a Pro account with 1SE. It costs around $2.49 per month for an annual subscription or $3.99 per month for the monthly option. A Pro account gives users the ability to add royalty-free music to their movies and unlimited backup. It also allows you to remove 1SE branding from the clips.
I am excited to keep a video diary with this app. Out of the 86,400 seconds in each day, it feels very reasonable to make the time to create a one second clip for each of my timelines. A great way to start the new year and a resolution worth keeping.