Working to be "Free to Breathe"
November 1, 2013
/
/
Comments Off

on Working to be "Free to Breathe"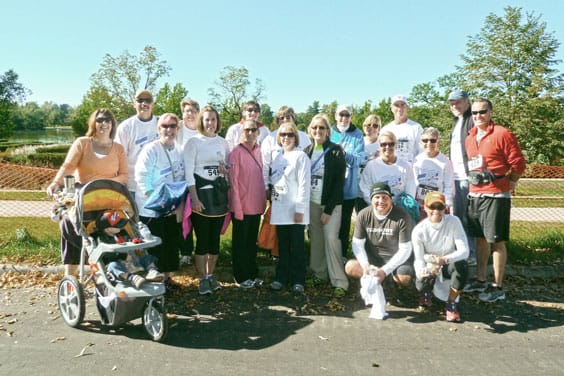 Tam Bentley (back row turquoise sweatshirt, ball cap and black pants) with her team, Tam's Easy Breathin' Buddies. The team raised more than $2,100 at an event last month to benefit the National Lung Cancer Partnership.

By Lisa Crockett; photo courtesy of Tam Bentley
In an effort to double lung cancer survival by 2022, the National Lung Cancer Partnership hosted fundraising events across the country this year. The Partnership, founded by physicians and researchers, works with survivors and advocates to increase lung cancer awareness and research funding. Last month, a "Free to Breathe" 5K fun run/walk in Denver raised more than $60,000. More than $2,100 of that total was raised by Castle Pines resident Tam Bentley and her team of friends and co-workers dubbed "Tam's Easy Breathin' Buddies."
The race was of special significance to Bentley, who works as a proposal manager at CH2M HILL. A little less than a year ago, she was diagnosed with small cell lung cancer, an aggressive form of the disease, and received a course of chemotherapy treatments that ended last spring. Over the summer, she had radiation treatments. Now her cancer has been deemed "stable" and she will receive no further treatments as long as that condition holds.
"I'm a life-long non-smoker," said Bentley. "There are a lot of misconceptions about the disease and a lack of awareness. This race was something I could do to help change that."
Race day dawned chilly and sunny in Denver's Washington Park, and Bentley said a festive and happy atmosphere permeated the event.
"It felt good to be able to do something to make a difference," said Bentley. "It was so great that people from the community would get up early to come out and support the event."
For more information about the National Lung Cancer Partnership or to make a donation to Free to Breathe, visit www.freetobreath.org.