A bit of sweet voodoo magic comes to Denver
February 1, 2014
/
/
Comments Off

on A bit of sweet voodoo magic comes to Denver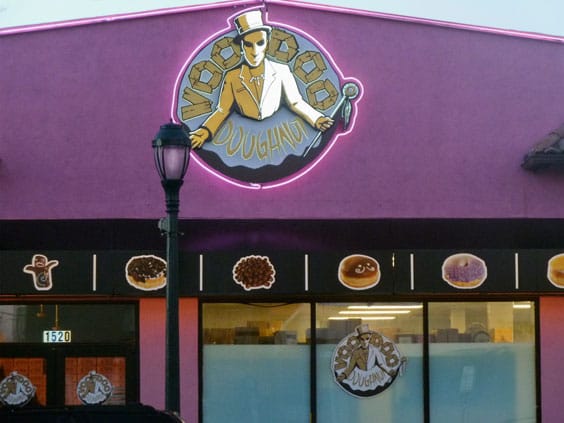 Voodoo Doughnuts held its grand opening in Denver in January. The company chose
Denver to open its first store outside of Oregon and doughnut lovers are
delighted with the funky voodoo magic inside the bright pink building.
Article and photo by Amy Shanahan
Anyone who has lived or spent any time in Oregon or Washington is familiar with Voodoo Doughnuts. The three original stores, located in Oregon are legendary for doughnuts with some outrageous names and flavors. As of January, Denver is home to the first Voodoo Doughnuts outside of Oregon and doughnut lovers are thrilled!
Voodoo Doughnuts not only taste good, but they challenge the eater to explore new flavors. The most famous doughnuts are the Voodoo Doll, a chocolate frosted, jelly-filled doughnut bar with arms, decorated like a zombie, and the Bacon Maple Bar, a maple frosted doughnut topped with bacon. The more adventurous may be interested in the Tangfastic, a cake doughnut with vanilla frosting topped with Tang, or the Captain My Captain, a raised doughnut with vanilla frosting and Captain Crunch cereal. Standard doughnuts like glazed, chocolate and old fashioned are also on the menu.
The new Denver store officially opened on January 15 and features a brightly colored storefront, chandeliers, train horns, and much more. Doughnuts come in signature pink boxes and fans of the doughnuts can't get enough. The store has sold out each day since opening, so it's best to check them out on Facebook before making the drive to Denver.
Lines have been long but the wait is worth it for doughnut lovers. Voodoo Doughnuts is located at 1520 E. Colfax Ave. Learn more at www.voodoodoughnut.com.