A year of firsts for National American Miss participant
July 1, 2016
/
/
Comments Off

on A year of firsts for National American Miss participant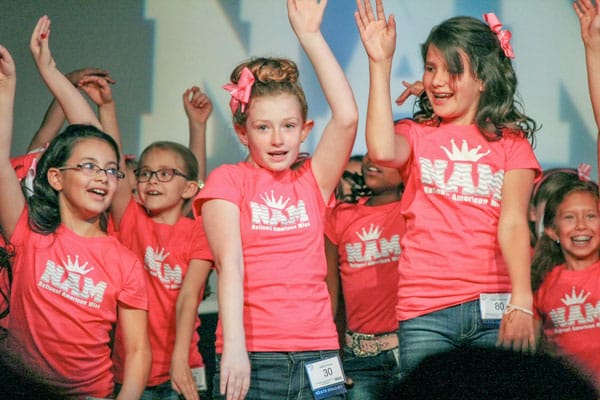 Ada (center) and other contestants at National American Miss got energized and had some fun during the pageant weekend.

By Elean Gersack; photos courtesy of the Hanley family
It has been a year full of firsts for Ada Hanley. She tried playing volleyball for the first time, she sprained her wrist for the first time, and she competed in a pageant for the first time.

The very sweet, almost 10-year-old who attends Buffalo Ridge Elementary School made her debut in the junior pre-teen division of the National American Miss Pageant in Colorado Springs during Memorial Day weekend.
National American Miss Pageants focus on inner-beauty, poise and presentation with an emphasis on the importance of developing self-confidence, learning good sportsmanship as well as setting and achieving personal goals.
An anonymous friend recommended Hanley for the pageant. She was contacted by mail early in the year and asked to attend an informational session in February. She came prepared, answered the judges' questions, and a week later learned that she had been selected to compete in the pageant.
During the weekend event, Hanley gave an "all about me" speech, wore a beautiful evening gown, dressed up in business attire, and had lots of fun on stage with the other contestants. "It was scary and exciting!" said Hanley.
The experience gave Hanley a boost in self-confidence and the realization that it is fun to be a part of something no matter who is crowned winner. "You shouldn't expect to win – just have fun and make new friends," said Hanley. She is very grateful to her pageant sponsors, Kelly Beaudoin with Conference Direct and Taneha with Circle of Love Counseling for giving her this opportunity.
For now, Hanley is back to playing volleyball, reading lots of books this summer, and being a great big sister to her little brothers Tommy and Liam. Perhaps next spring she will return to National American Miss.