Animals slithered, crawled and entertained
July 1, 2013
/
/
Comments Off

on Animals slithered, crawled and entertained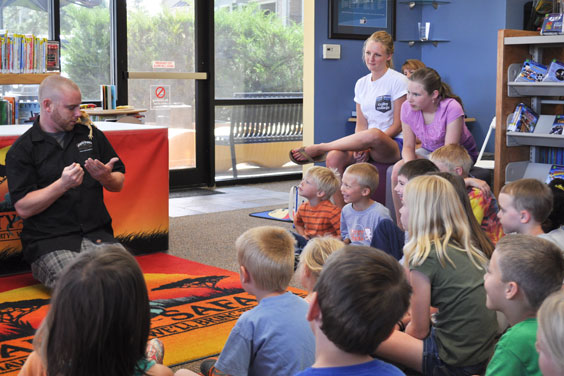 Kids at the Castle Pines Library smiled and laughed as Mr. Chad showed them a tortoise that can live to be 150 years old!
(photo courtesy of Katharine Hammer)
By Patte Smith; photos courtesy of Wesley White and Katharine Hammer
There is no end to the great programs and events that Douglas County Libraries offer the community. One fun program, "Party Safari," is traveling to each branch library this summer and in June the Castle Pines library hosted Mr. Chad from Party Safari with his amazing show. It was a huge hit with kids and adults, too!
Mr. Chad was entertaining as he introduced tarantulas, lizards, snakes, a tortoise, a bullfrog and a scorpion to the kids. The animals were from all over the world: Madagascar, Australia, Asia, South and North America. The program was a great learning experience for the children as they saw first-hand how animals blend into nature. The group was in awe as Mr. Chad gently handled the animals while teaching about the unique characteristics of each creature. Little ones oohed, ahhed and laughed as the snakes, lizards and tarantula climbed and slithered over Mr. Chad, even inside of his shirt!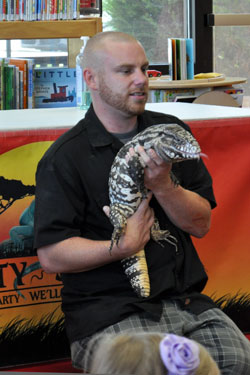 Chad explains the importance of reptiles blending into their surrounding.
(photo courtesy of Wesley White)
The kids were well-behaved as they discovered that animals are incredible and that they do not have to fear them, but be aware of them. "This tortoise can live to be 150 years old and grow to 150 to 200 pounds," explained Mr. Chad.
"The heaviest snake is the Anaconda, while the longest snake is a Reticulated Python that can reach 30 feet long. And, not all scorpions live in the desert, but in forests too." He questioned the kids on the difference between carnivores, herbivores and omnivores. Hands waived and many of them had the correct answer. (Readers, do you know the difference?)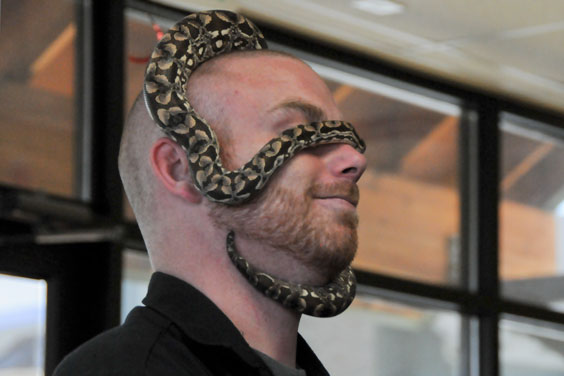 The kids didn't scream when Mr. Chad wore his snake hat.
(photo courtesy of Katharine Hammer)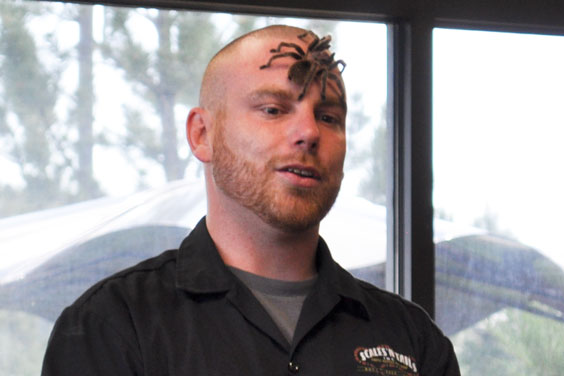 A tad scary!
(photo courtesy of Wesley White)