Big Splash for Rotary Clubs' 2013 Ducky Derby
July 1, 2013
/
/
Comments Off

on Big Splash for Rotary Clubs' 2013 Ducky Derby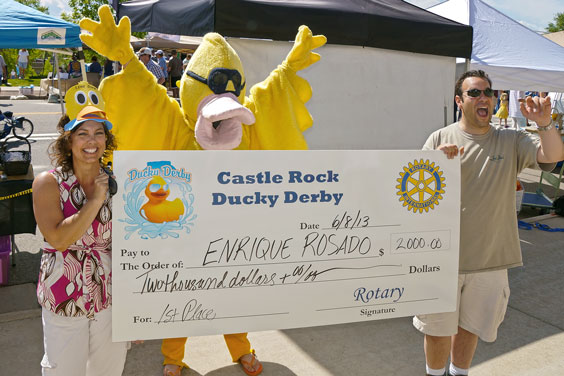 Ducky Derby Chairperson Kelly Marsh (left) presented the $2,000 first place cash prize check to Enrique Rosado (right).
By Elizabeth Wood West; photo courtesy of Rotary Club of Castle Rock
Rotary Club members from Castle Pines and Castle Rock have a lot to celebrate. The Rotarians' combined efforts raised nearly $40,000 from its 17th annual Ducky Derby and street festival. The ever-popular Ducky Derby race, held in downtown Castle Rock, was attended by a crowd of close to 4,000 people.
The festivities included live entertainment, street vendors, food and beverages, face-painting, and other family fun. Nearly eight thousand rubber duckies were dropped into Plum Creek, each one eligible to win prizes including a $1,000,000 annuity, a 2013 Jeep Sahara Wrangler, cash awards, and over 400 prizes from local merchants.
The $2,000 first place winner was Enrique Rosado; the $750 second place winner was Alex Almquist; and the $250 third place winner was William Doogan. This year's Ducky Derby major sponsors included Castle Rock Adventist Health Campus/Centura Health, Castle Rock Area Newsletters, Castle Rock Bound.net, Community Media of Colorado, Duke's Steakhouse, Leevers Supermarkets Inc., Medved Autoplex, Mirage Dental Associates, Sam's Club of Lone Tree, and The Castle Pines Connection.
The $40,000 raised from this year's Ducky Derby will be divided by Rotary Clubs of Castle Pines, Castle Rock, and High Noon Castle Rock and donated to local non-profit organizations including Women's Crisis & Family Outreach Center, Douglas/Elbert Task Force, Castle Rock Senior Center, Boy Scouts of America, Homes for Our Troops, Interact Clubs in three local high schools, college scholarships, and leadership training camps for youth.
Kelly Marsh, 2013 Ducky Derby Chairperson, said, "2013 was a great year for Ducky Derby. All of our revenues go toward supporting our local and international charities. These funds will be distributed throughout the year. We want to thank the community and participants this year for all of their support. We had very generous support from our cash sponsors as well."
The Castle Pines Connection is a Ducky Derby media sponsor. Go to www.castlepinesconnection.com and click on "Photo Album" to see a complete slideshow of this year's Ducky Derby event.