Annual Rock Slide Fundraiser Set for November Local Sponsors Needed
August 1, 2007
/
/
Comments Off

on Annual Rock Slide Fundraiser Set for November Local Sponsors Needed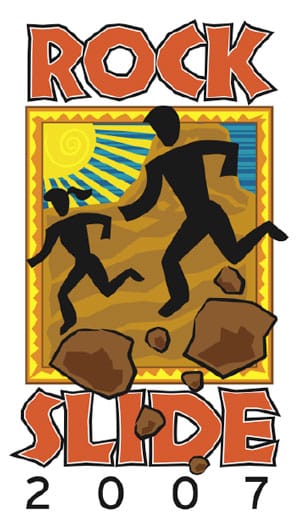 by Lisa Crockett
Personal training and fundraising do not often intersect. When the annual Rock Slide race needed a new coordinator, Jenny Brett, member of the Wildcat Mountain Elementary PTO, seemed tailor-made for the job.
"As a personal trainer and a parent, I love the mission of the race," said Brett. Bringing families and the community together to promote fitness is something I really feel good about. It's also a great way for local companies to connect with the community and contribute to a good cause."
The race began as an event for two Castle Pines North (CPN) schools, Timber Trail Elementary and Buffalo Ridge Elementary. The race has grown to include seven local schools and nearly 1,000 participants each year. The 5K run and one mile run/walk is set for November 10 with the run beginning at 9 a.m. The run will begin and end at Rock Canyon High School.
Sponsorship of this community event offers many benefits: links from the Rock Slide website, flyers sent home in student's backpacks, posters at each of the schools, advertisement with school e-mail distributions, company name and logo on Rock Slide t-shirts, promotional items in the runner's goodie bags, and a booth at the event for all platinum sponsors.
There are four levels of sponsorship available which include:
Presenting – The presenting sponsorship will be awarded to the highest donator. With this comes top billing during the event, on the Rock Slide website, on all forms, t-shirts, posters, and the opportunity to make a presentation and set up a booth the day of the event.
Platinum ($1,000) – All sponsors who donate at this level or above will receive a large logo, link and personal ad page on the Rock Slide website, a large logo on flyers and t-shirts, and have the opportunity to set up a booth or table at the event.
Gold ($500) – All sponsors who donate at this level
or above will receive a graphic on all posters, t-shirts, advertising, and their company logo, name and web link on the Rock Slide website.
Silver ($300) – All sponsors who donate at this level or above will have their name printed on all flyers, t-shirts, posters, and advertising.
Sponsors must commit by September 14 to be included in event advertising. As soon as donations are received, the sponsor's web link will be added to the Rock Slide website.
The Rock Slide has joined forces with the Kiwanis Club of Castle Pines. Immediately following the run, a pancake breakfast will be served. All proceeds from the pancake breakfast will benefit the Second Wind Fund, a teen suicide prevention program for the Douglas County School District. To learn more about this organization visit their website at www.thesecondwindfund.org.
To learn more about the Rock Slide and receive additional information on sponsorship, contact Jenny Brett at 303-346-0706, or by email at Contact by email.