Arts Center director looks to the future
August 1, 2010
/
/
Comments Off

on Arts Center director looks to the future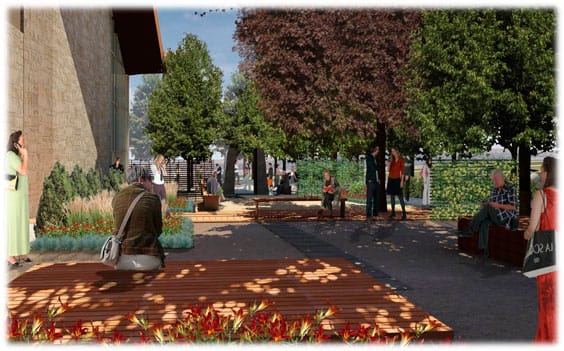 by Lisa Crockett
Something for everyone. That's the goal of the executive director of the new Lone Tree Arts Center, Lisa Rigsby Peterson. The Arts Center is currently under construction in RidgeGate (adjacent to Super Target in Lone Tree) and is slated for completion in Fall 2011.
"My hope is that we can keep the building open and busy all day long," said Rigsby Peterson. "I envision a place that is vibrant and people are welcome with programs for music, theater, dance as well as programs for kids and families."
The new center will feature a 500-seat theater as well as a gallery for visual arts and a smaller 150- to 225-seat theater/meeting space. Specific plans for performances have yet to be announced at the location, but Rigsby Peterson has lots of ideas.
"Studies show that children need to go to the theater as children, or they don't go as adults because they don't know what to expect or how to act. The name of the center is the Lone Tree Arts Center, which is great because it lets people know where it is located, but this is in no way meant to be just a Lone Tree amenity; this is a regional facility and will be serving the entire South Metro area."
In addition to performances and programs, the Arts Center will soon found a volunteer guild to provide participation from the community including both fundraising activities and ways to volunteer at the center as ushers and docents. Donors to the Arts Center will be afforded special opportunities for receptions and events as well as advance ticket sales.
"Involvement in our guild will be a great way to support the center, as well as a wonderful social opportunity for volunteers," said Rigsby Peterson.
Rigsby Peterson is currently exploring collaborations with other regional arts centers, as well as regional and national organizations to bring top-quality programming and events to the center. Additionally, she thinks there is a place for local talent, including talent from local high schools.
"We are looking at the possibility of having interns from local high schools come to work at the center," she said.
The center is funded by a bond issue approved by Lone Tree voters in 2008 and will provide services currently available only by traveling long distances.
"There are all kinds of amenities here – parks, trails, movie theaters," said Rigsby Peterson. "The performing arts center fills a need that isn't filled by anything else. We're excited about being in Lone Tree and serving the whole South Metro area.
For more information about the Lone Tree Arts Center, refer to article on the front page or visit www.cityoflonetree.com, click on "Leisure and Living," then "Arts and Culture," then "Lone Tree Arts Center."