Big O Tires brings Alive at 25 program to Castle Pines North
August 1, 2009
/
/
Comments Off

on Big O Tires brings Alive at 25 program to Castle Pines North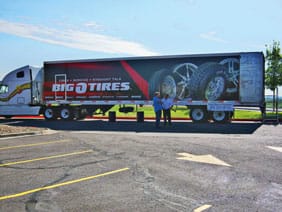 Information submitted by Big O Tires
Big O Tires was very proud to bring the Alive at 25 Premier Program to Castle Pines North this past May. Big O Tires (along with the Center for Transportation Safety) have supplemented the Premium program so that the students and their parents can attend this very important training together for a modest $35 instead of $150.
This new program incorporates practical skills driving education using state-of-the-art simulators and skid cars, with an obstacle course and a Coaching-your-teen commentary drive. Coupling practical skills training and assessment with the Parent Program curriculum offers the best opportunity to create an effective learning partnership for the teen driver.
There were 22 students and 13 parents who attended the program in Castle Pines North in May. The feedback from both the teen drivers and their parents was very positive. There were two huge semis in the Safeway parking lot. In the Alive at 25 trailer, there is a simulator that simulates common driving hazards to see how the student will react.
In the Big O trailer, the students put on beer goggles to see how their driving is affected by alcohol, and the hazards of distractions (such as texting while driving) were discussed. They also watched some defensive driving videos.
If we can reach just one student and keep them alive, then we have done our job. A special thank you to the Red Umbrella for cooking up a fabulous lunch for the students.
Check out www.aliveat25.us if you are interested in upcoming training opportunities.