August 1, 2009
/
/
Comments Off

on DCSO Citizens Academy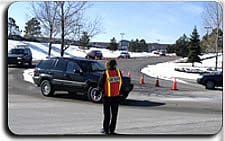 Submitted by Deputy Ann Walton, Community Resources Unit, 303-814-7001
Deputy Ron Hanavan, Community Resources Unit, 303-814-7089WHAT
Douglas County Sheriff's Office to Host First "One Day Citizen Academy"
The Douglas County Sheriff's Office, is now accepting applications for its first "One Day Citizen Academy". This is a great opportunity to learn more about the Sheriff's Office, in a short amount of time.
The one-day class will be held on Friday, September 25, 2009, at the Highlands Ranch Law Enforcement Training Facility located at 9008 Hwy 85, Littleton CO.
The class will have the "boot camp" feel, making sure that the students learn as much as they can in the 8 hour period. The topics will include information about many aspects of law enforcement; including patrol operations, traffic enforcement, detentions division operations, crime scene investigations, K-9 unit, SWAT and there will be plenty of demonstrations. We also plan to run a few of the students through the RANGE 3000, a shooting simulation machine. Even though it is a one day class, at the end of the day the students will be left with a better understanding of the Sheriff's Office and law enforcement in general.
Space for this one day class is limited and a background check will be conducted on all applicants. Applications are due by August 28th. Those that are accepted will be notified prior to the class. Applications are available on-line at www.dcsheriff.net
"Understanding the value of everyone's time, I wanted to present an alternative to the traditional 10-week Citizen Academy, accommodating those that have been unable to attend in the past due to the time commitment. The topics and instructors will ensure that participants leave with a positive understanding of what we do on a daily basis," stated Sheriff Weaver.
For more information about the Academy, please contact Deputy Ann Walton at 303-660-7544.