BRE makes way for another great year!
August 1, 2011
/
/
Comments Off

on BRE makes way for another great year!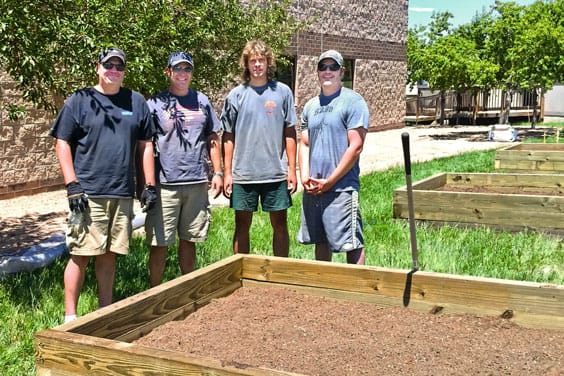 Buffalo Ridge Elementary 'super dads' use donated resources from Castle Rock Lowe's to create planting beds for the new school garden. BRE is one of several district schools participating in the "Garden to Chef" program.
by Elean Gersack with photo courtesy of Principal Berggren
Buffalo Ridge Elementary School starts in a just a few short days and there are many exciting events planned to jump start the year. Parents — mark your calendars and get ready for a great 2011-2012!
Monday, August 8: Meet & Greet Day
Come and meet your child's teacher, find his/her desk and have his/her school photo taken. Stop by anytime between 9:00 a.m and noon or 1:00 p.m. and 3:30 p.m. Don't forget to stop by the Buffalo Ridge Educational Alliance (BREA) table to pick up your child's t-shirt and to buy wristbands for the BRE Family Stampede .
Tuesday, August 9: First day of school for grades 1 – 5;
School starts at 9:10 a.m. and ends at 4:00 p.m.
Thursday, August 11: First day of kindergarten / new family welcome coffee;
Morning kindergarten begins at 9:10 a.m. and ends at 12:05 p.m.; afternoon kindergarten begins at 1:05 p.m. and ends at 4:00 p.m. New families and kindergarten parents are invited to join Principal Berggren for a welcome coffee right after morning drop-off or afternoon kindergarten drop-off in the library.
Friday, August 12: New! Character education family gatherings.
Each month, students will perform skits to help kick off the character trait of the month. Parents and siblings are invited to attend these gatherings. The kick-off event is planned for Friday, August 12, from 9:30 a.m. to 10:30 a.m. in the gymnasium.
Friday, August 19: BRE Family Stampede
This third annual family carnival, sponsored by the BREA, will be held on the Buffalo Ridge Elementary field from 5:00 p.m. to 7:30 p.m. Activities include a dessert walk, lollipop tree, bungee bull, bungee run, bounce house, obstacle course, giant slide, cotton candy, Sno Cones, popcorn and, of course, the dunk tank! Purchase pre-sale wristbands during meet & greet or learn more at www.buffaloridgeelementary.org.
Thursday, August 25: Back to School Night (parents only); Parents are invited to visit classrooms between 4:30 p.m. and 5:00 p.m. or 5:00 p.m. and 5:30 p.m. At 5:30 p.m., everyone will gather in the gymnasium to hear from Principal Berggren.
There is much more on the horizon for this year. Friday, September 16 will mark the first ever BRE Amazing Race! As the major fundraiser for the year, students will enjoy an around the world fitness day with activities representing 10 countries.
Stay tuned for more details on these and other happenings at BRE. For more information, visit the school website at http://schools.dcsdk12.org/bre or the BREA website at www.buffaloridgeelementary.org.