January 1, 2019
/
/
Comments Off

on Bring on the bubbly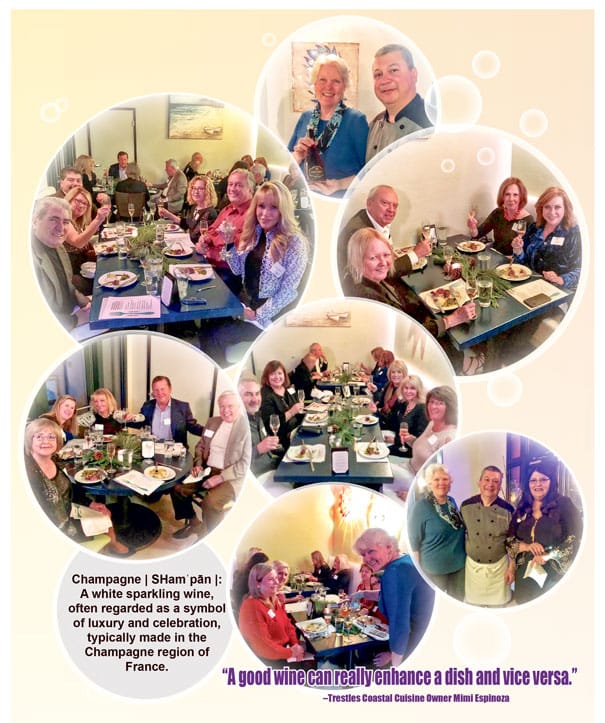 By Terri Wiebold; photos courtesy of Dave DeFore
The south metro Denver (SMD) chapter of the American Wine Society (AWS) held its second local gathering for a sold-out crowd at Trestles Coastal Cuisine in The Village at Castle Pines on November 29. The theme was "Bubbles Around the World," and guests were treated to delicious cuisine and sparkling wine pairings.
"We were formed during the summer of 2018 with a mission to provide wine exploration and education in a fun social environment," stated AWS-SMD President Michelle Neuman. "Our members asked for wine pairings, and the event at Trestles delivered on this request. The event was a huge success!"
Second-level sommelier and evening hostess, Lauren Hallman, educated attendees about the difference between sparkling wine and Champagne. She spoke at length about the different methods for creating sparkling wine and the process by which secondary fermentation of the wine in the bottle creates carbonation, making the wine bubbly.
According to Trestles Owner Mimi Espinoza, the evening was particularly special because many of the guests were regular customers who she knows on a first-name basis. "We had a lot of fun planning for this one," said Espinoza. "They came in and we paired everything ahead of time, sampling each pairing to make sure they were all good."
The custom-selected menu for the evening included oysters peño, seared sea scallops with fig balsamic reduction, lobster mac and cheese, and filet mignon a la Chef José – all paired with a different sparkling wine. "A good wine can really enhance a dish and vice versa," remarked Espinoza.
When it came time for dessert, Hallman had everyone first take a sip of the sparkling wine before sampling a bite of the decadent chocolate dessert. "I thought the sparkling wine was a bit sweet for my tastes just on its own," remarked Dave DeFore, AWS board member. "But, once we took a bite of the chocolate brownie and then tasted the wine, it was quite different and I really enjoyed it!"
The AWS-SMD board of directors anticipates offering its members eight or nine events per year, including partnering with local restaurants and wineries. "There will be something for everyone – from the casual enthusiast to the serious connoisseur," stated Neuman. Anyone interested in learning more about the AWS or attending a local wine event, contact Karmin Patterson at 702-468-5444.
Check out page 30 of The Connection E Guide insert for a "save the date" for the next AWS event.