May 1, 2019
/
/
Comments Off

on Budding artists blossom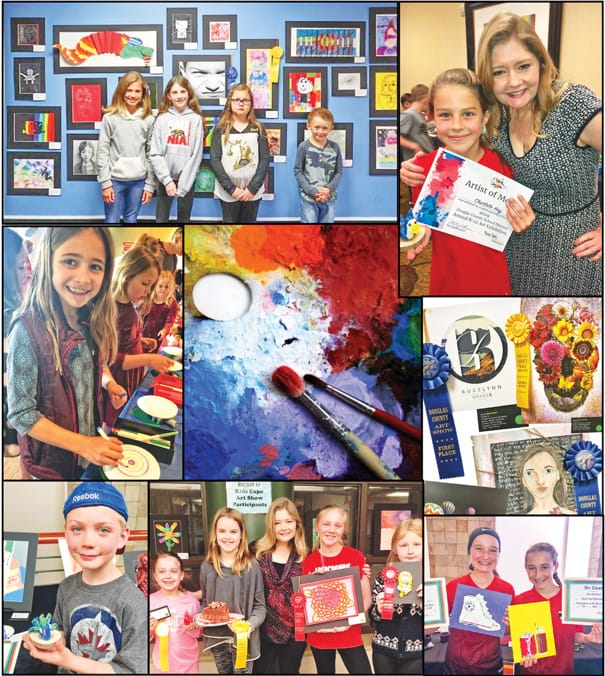 By Julie Matuszewski; courtesy photos
The Douglas County School District (DCSD) Visual Art and Kid's Expo Art (KEA) shows returned again this year, displaying innovative artwork from local budding artists. The art shows also took place earlier this spring for all the community to enjoy. This year's art events showcased imagination, creativity and innovation. Both shows served and celebrated the most outstanding individual artwork created by DCSD students of all grade levels.
The Visual Art Show displayed artwork projects from classroom curriculum and art club members from each of the participating schools. Local elementary schools Timber Trail, Buffalo Ridge and American Academy all had award-winning projects on display. Projects represented were hand selected from school art displays throughout the year. Students were encouraged to not only express themselves, but to come up with their own unique and creative ideas.
Timber Trail Elementary (TTE) art teacher Wendy Wilson said "creativity is the process of making new and innovated connections in a given problem. In art, that involves coming up with an idea, developing that idea, creating work around that idea, sharing that idea and reflecting on the idea." In Wilson's art class, all four of those steps occurred within each given assignment. Students were inspired not only by their own ideas but each other's ideas as well.
Elementary students utilized their creativity to create either a two dimensional (2D) piece that pertained to paintings and graphics or a three dimensional (3D) piece which implied sculpture. The DCSD Visual Art Show was specifically an art show where prizes were awarded. TTE fifth grader Lyric Miller was a second place winner in the intermediate 2D category. Lyric shared, "putting your emotions in your art makes the picture come to life. Miss Wilson has made me the artist that I am, which has helped me to be in the art show every year, and even win some years!" Being selected and a part of a visual art show the size of the DCSD art show was a great accomplishment for students of all ages.
The KEA show was a part of a larger event that offered students the opportunity to create other crafts, dance and even make cookies. Even though there were no awards given for artwork at this event, it was a fun show for all that attended and students came away with one of kind handmade crafts!
Congratulations to all of this year's DCSD Visual Art Show winners and nominees!