Cabela's to open as anchor at RidgeGate Commons
July 1, 2012
/
/
Comments Off

on Cabela's to open as anchor at RidgeGate Commons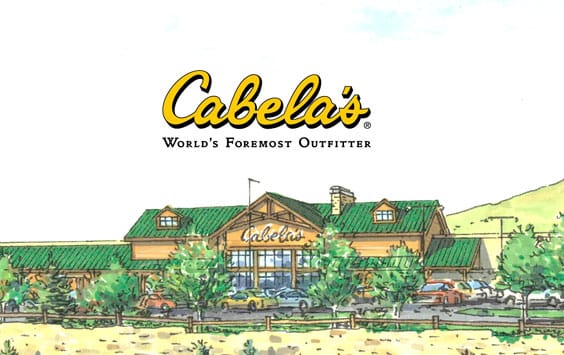 The new Cabela's 110,000 sq. ft. store at RidgeGate Commons is expected to start construction this fall and be completed in 2013.
By Elizabeth Wood West with site plan provided by Coventry Development Corporation and sketch plan provided by Cabela's
Cabela's, arguably the world's largest retail supplier of hunting, fishing, camping, and outdoor-related merchandise, will be building a new 110,000 sq. ft. store as part of the new RidgeGate Commons retail center in Lone Tree. Cabela's and the new 80,000 sq. ft. retail center will be located at the southwest corner of the I-25 and RidgeGate Parkway interchange and is scheduled to open in 2013.
Wes Remmer, corporate communications specialist for Cabela's, said the new Lone Tree store's design and layout will provide shoppers with an outdoor-like experience. The store's exterior will include Cabela's traditional finishes of log construction, stonework, wood siding, gabled main entrance, metal roofing, and a large glass storefront to give customers a view inside the store as they approach the entrance. The store's interior will include a fireplace, mountain replica with North American game animals, trophy mounts and other wildlife displays, gun library, bargain cave, fudge shop, and a deli.
Remmer recounted the outdoor equipment giant's humble beginning: "Cabela's was founded in 1961 in Chappell, Nebraska, which is just 20 miles from company headquarters in Sidney, Nebraska. That was the year founder Dick Cabela, a lifelong hunter and fisherman, posted an ad in small local newspaper to sell some hand-tied fishing flies he had purchased."
Remmer continued, "Dick and his wife Mary filled each order from their kitchen table for about two years before persuading his brother Jim Cabela to join the business and help. Fifty-one years later, the company employs about 15,000 people and operates 37 retail stores across the United States and Canada," he said.
Remmer said Cabela's chose the Lone Tree location because of Douglas County's high concentration of online and catalog sales. "We simply have a ton of loyal customers in the area. There is an abundance of outdoor opportunities in and around Douglas County, which fits our demographics. Not only that, but Douglas County is close to company headquarters in Sidney, and we like the location along I-25 because of the exposure," Remmer said.
Steve Hebert, community development director for the City of Lone Tree commented, "The city expects the sales tax revenues of Cabela's and other tenants in RidgeGate Commons to be significant. The city also anticipates Cabela's to attract shoppers who will also spend time and money throughout Lone Tree, including the Park Meadows Mall." The store is expected to create approximately 150 full-time and part-time jobs.
Coventry Development Corporation (Coventry), the developer of RidgeGate, submitted applications for a new subdivision plat and site improvement plan and received unanimous approval from the Lone Tree City Council.
Hebert said, "The site grading and utility installation will continue throughout the summer. Cabela's will be submitting their building construction drawings along with their building permit application in the next few weeks."
Darryl Jones, vice president/development manager for Coventry, said "Construction for Cabela's and RidgeGate Commons is expected to begin this fall and open by late summer or fall of 2013."
For further information, contact Darryl Jones at 720-279-2581, Tami Lord of Legend Retail Group at 720-529-2999, or Steve Hebert at 303-708-1818.