Chamber welcomes new business; neighbor
July 1, 2012
/
/
Comments Off

on Chamber welcomes new business; neighbor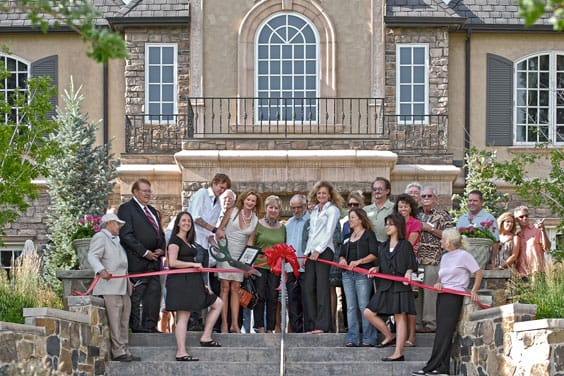 The Castle Pines Chamber of Commerce held a ribbon cutting ceremony on June 21 to celebrate to opening of Castle Cliff, a new event venue right here in our own back yard.
Article and photo by Julie Montoya
The Castle Pines Chamber of Commerce is happy to announce its newest partnership with the opening of the Castle Cliff Estate. This incredible private chateau is a premiere location for weddings, events and parties. It also serves as an intimate four suite bed & breakfast – the only one of its kind in the Castle Pines area.
Located on the 55 acres of Castle Cliff Farm Equestrian Center, this fairy-tale home boasts 10,000 square feet of French Country architecture. With limestone flooring, stone walls, and 200-year-old oak ceiling beams throughout, the chateau transforms its guests with old world charm and style.
Catherine Groos, the builder and original owner of the Chateau, and owner of the Shoppes at Castle Pines, joined the Chamber of Commerce to, "Be involved in the community and create more of a community atmosphere." By opening her home as an event venue and bed & breakfast, Groos hopes to strengthen the community by keeping business within the city; thus, strengthening the "heart" of Castle Pines.
For events, the estate offers full event services for up to 150 guests. For those looking for an idyllic place to stay the night, the estate offers four distinctly different, and immaculately adorned guest suites that can be rented as part of an event, or just for an evening stay.
Whether guests are enjoying a wedding, or just a good night's rest, the level of style the estate affords allows guests a tranquility that is second to none. Groos' goal to strengthen the heartbeat of Castle Pines certainly may come to true with her opening of the Castle Cliff Estate. To learn more, go to www.castlecliffesate.com.