Douglas County Task Force stocked shelves from 2012 9News Food Drive
July 1, 2012
/
/
Comments Off

on Douglas County Task Force stocked shelves from 2012 9News Food Drive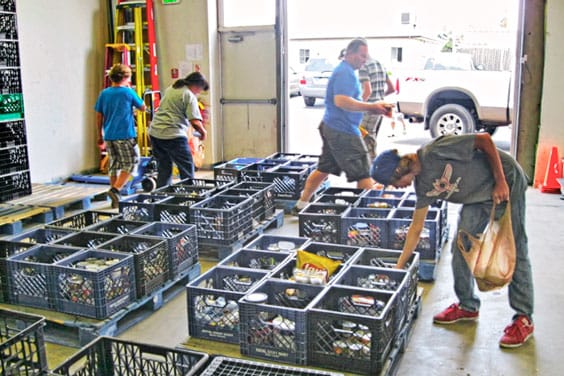 Volunteers sort food donations at the Food Bank on Park Street in Castle Rock.
Article and photo by Birgit Moran
On June 16, the 9news Colorado Cares, Colorado Shares food drive bounty came to the Douglas/Elbert County Task Force food pantry, and thrift store with volunteers ready to help.
Located at 1638 Park Street in Castle Rock, the task force offers a thrift store (and takes donations) as well as a food bank for those in need. It distributes about 800-1,000 pounds of food weekly via off-site food banks at low-income senior and family housing units and provides approximately $75,000 of food/hygiene assistance per year to senior citizens and families in need.
There are great opportunities to volunteer at the food bank year round. It can always use a hand to help inspect, sort and shelve donations and assist in preparing food orders for clients.
Kathy D'Amore, volunteer coordinator at the task force, pointed out that volunteers come for all sorts of reasons to help for short or longer term projects. One recent widow told her that coming there to help kept her sane.
The Trayser family spent most of the day helping to unload donations and then sort them into the appropriate containers. June and Jim Trayser said, "If we get a chance to help as a family, it's nice." The family of four helped sort food last November, also. D'Amore made them feel so welcome; that's why this family decided to come back and do this again. Plus, added Trayser, "This gets us out of the house and away from video games."
This year, the 9News food drive brought in just under 400 pounds more food than in 2011, for a total of 2,912 pounds.
The task force offers three fund raisers each year, two of which still are up and coming: The Sassy Soiree is in September with a fashion show luncheon, boutique and silent auction and takes place at the Douglas County Events Center (see "save the date" this page). On Thanksgiving Morning there's The Turkey Rock Trot, a 5K fun run/walk for the whole family, also at the Douglas County Events Center.
For more information, contact Kathy D'Amore, volunteer coordinator, Douglas/Elbert Task Force by e-mail kathyda@detaskforce.org or call 303-688-1114.