Castle Crocs wrap up fourth season
August 1, 2009
/
/
Comments Off

on Castle Crocs wrap up fourth season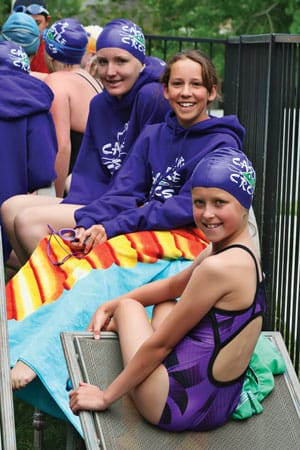 by Carin R. Kirkegaard
The laughter could be heard ringing as it drifted over the gate at the HOA2 pool each morning during the Castle Croc swim practice. The Crocs wrapped up season four over the summer and had a great time in the process.
The team, run by head coach Paul Whitaker, spent the summer working hard – all the while having fun. The coaching staff worked on stroke and endurance through various drills, some of which seemed more like games than actual swimming technique work. Swimmers would work on dives from the block while trying to see who could dive out farthest over a noodle held above the water. At some practices, even the coaches couldn't help but join in the fun.
Call it games or swimmer development, the Crocs definitely improved over the summer. They finished the regular season 3-2 and sent many swimmers onto the Mountain High Swim League (MHSL) B2 Championship meet where the team took third place overall and won the Sportsmanship Award.
In addition, 19 swimmers, Rory Brown, Chloe Civello, Fionn Cool, Prent Haworth, Wilson Haworth, Chelsea Hudgen, Jared Jordan, Nicole Jordan, Collin Kemp, Ted Koerner, Amanda Mahoney, Andrea Meli, Matthew Reed, Cala Renehan, Marielle Renehan, Claire Steffe, Will Steffe, Hadley Templin and Jaycee Weber all achieved an All Star time and were eligible to swim against other All Star swimmers from the entire MHSL.
Each season, the Crocs gain in experience as both the team and the individual swimmers age. This summer, the Crocs were proud to have their six junior coaches, Chelsea Hudgen, Jared Jordan, Erin Oehm, Marielle Renehan, Allison Uralli and Tate Vernon, come directly from Castle Pines North (CPN).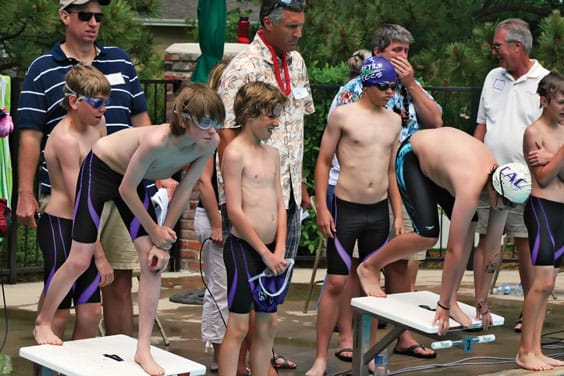 "When the team began, it was our vision to have our swimmers grow up with the team and eventually start to fill in some of the coaching roles. Swimmer development is an important piece of the Crocs mission. It has been a joy to watch as these neighborhood kids develop both as young adults and swimmers-. It is definitely one of the perks of a community swim team," said Colette Celecki, founding board member.
The Crocs, with the exception of a paid coaching staff, is run entirely by parent volunteers. The team would not be possible without the sponsors who helped during the season. Many thanks to HOA1, HOA2, CPNII, Daz Bog, Little Italy, Colorado Kids Pediatric Dentistry, Drs. Lisa Fox and Patrick Wilson, Dr. Andrew Dunbar with Castle Pines Orthodontics, Maureen Brown with Mom's the Word! Talk Show, Safe Splash Swim School, Office Max, Twist Yoga Wear, Cool Patent P.C., The Barking Goat, Don Wackerly with Luxco and LaMar's Donuts & Coffee.