Castle Pines Chamber of Commerce launches new speaker series
October 1, 2014
/
/
Comments Off

on Castle Pines Chamber of Commerce launches new speaker series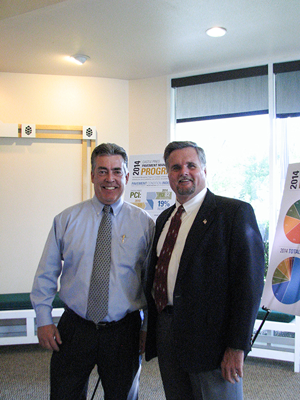 Castle Pines Mayor Jeff Huff (left) and Douglas County Commissioner Dave Weaver (right) presented at the Castle Pines Chamber of Commerce speaker series.
Article and photo by Elizabeth Wood West
The Castle Pines Chamber of Commerce (Chamber) hosted an informational presentation for local business owners and area residents at the Castle Pines Community Center in September. The topic was "Tomorrow's Castle Pines," which was an overview of City of Castle Pines (City) services and future plans as well as development updates.
Presenters included recently-appointed Douglas County Commissioner and Castle Pines Chamber Board Chairman Dave Weaver, City Mayor Jeff Huff, City Manager Don Van Wormer, and City Planner Sam Bishop.
"Tomorrow's Castle Pines" was organized by Chamber board member Greg Segal and was the first in a series of future presentations that will cover a wide range of topics including how to use social media, social security, and the Douglas County Sheriff's Office public safety coordination with the Douglas County School District.
For information regarding future speaker series presentations, or to learn more about the Castle Pines Chamber of Commerce, call 303-688-3359 or visit www.castlepineschamber.com.