New audio video shop in the Village offers personal, friendly service
October 1, 2014
/
/
Comments Off

on New audio video shop in the Village offers personal, friendly service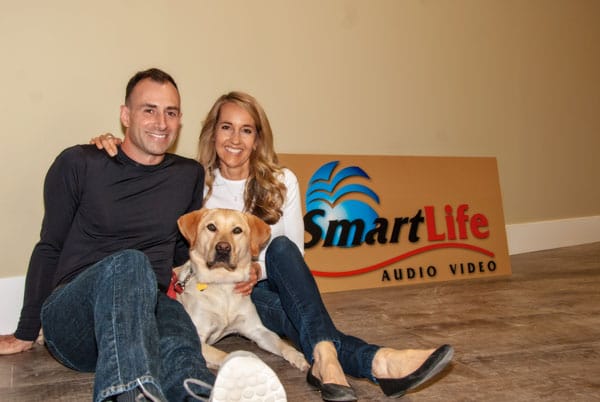 Fernando and Deb Salazar are pictured here with their two-year-old yellow lab Cody, the official mascot of their new SmartLife shop in the Village. The Salazars are excited to open their new retail store in late October, and look forward to becoming contributing community members and meeting everyone in the Castle Pines community.
By Amy Shanahan; photo by Jeremy Gamble
Deb and Fernando Salazar are the proud owners of SmartLife Audio Video, a new electronics boutique shop in The Village at Castle Pines that specializes in home entertainment systems. The Salazars are warm, friendly and very knowledgeable about the products they carry, which meet high standards of excellent audio video performance, as well as innovative "smart" control capability.
Fernando has worked in the electronics field for 24 years, beginning as a radar officer in the Marine Corps. Deb has more than 30 years of retail customer service and managerial experience. Together they bring a level of personal and specialized service to their customers, whether they may be in the process of building a new home or hoping to update their existing audio video needs.
Fernando explained, "Electronics are changing constantly and consumers run the risk of investing in obsolete or soon-to-be obsolete technology. We have the expertise to guide our clients toward a durable and reliable purchase which will provide their family with a decade or more of enjoyment."
SmartLife is set to open in late October. The shop partners with leading manufacturers to provide its customers with indoor and outdoor music systems and surround-sound family room systems, all with a focus on simplicity, ease of use and aesthetic décor. The Salazars are currently working with well-known builders in the Castle Pines community, including Sterling Building & Design and Zook Brothers Inc., and they look forward to becoming a fixture in the community. "SmartLife Audio Video will be a place for consumers, builders, architects and designers to come see and hear the latest innovations in audio video for themselves whether they want a home cinema experience, family room or house music system, and we welcome all with open arms," remarked Deb.
The Salazars said they were thrilled to discover The Village Shops at Castle Pines when looking for a location for their retail shop. "We chose the Village Shops because of the overall quaintness and genuine kindness we experienced from both shoppers and proprietors of the businesses we visited," remarked Fernando. "For Debbie and I, the Village Shops is where proprietors and shoppers build long lasting relationships founded on trust and personal service, which is the foundation of any successful business."
The Salazars are looking forward to being a part of the Castle Pines community and are excited to introduce new customers to their wide range of products and services.
SmartLife is located at 858 W. Happy Canyon Road, Suite 115 in The Village at Castle Pines, next door to Miyo Café. For more information, call Debbie at 303-668-7394.