Castle Pines chiropractor attends 17th Anniversary Fitness Conference
June 1, 2009
/
/
Comments Off

on Castle Pines chiropractor attends 17th Anniversary Fitness Conference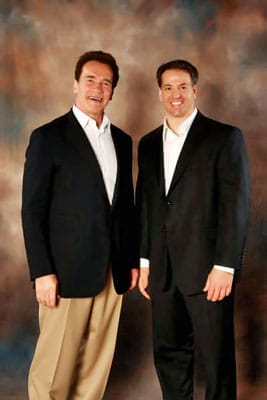 Submitted by Bryan Rudiak
Dr. Bryan Rudiak (pictured on the right) of Castle Pines, Colorado, was among a group of doctors of chiropractic from around the world invited to participate in the 17th Annual Symposium on Natural Fitness held in Columbus, Ohio in March.
The ICA Natural Fitness Symposium brings together the worlds of athletic competition, exercise and fitness, and chiropractic science to educate all participants on the value of natural health through exercise.
The highlight of the conference was the personal appearance of California Governor Arnold Schwarzenegger. A strong advocate of chiropractic care, Governor Schwarzenegger shared his thoughts about the importance of chiropractic care and his appreciation of its ability to help people on many levels.
Rudiak is a 2002 graduate of Life Chiropractic College West in Hayward, California. In practice for seven years, his office is located at 7280 Lagae Road, Suite B in Castle Pines, Colorado. Rudiak has post-graduate education in nutritional neurology, and has been a member of the Colorado Chiropractic Association since 2007, and the National Academy of Physicians since 2008.
Rudiak has served on the Board of Directors for the Castle Pines Chamber of Commerce for the last two years, and was named in Strathmore's "Who's Who" in 2007-2008. He is the team chiropractor for the ECHL "Bakersfield Condors" hockey team and for the "Green Mountain Sports" cycling team, and in addition, is certified to perform high school sports physicals.
Rudiak can be reached at 303-660-3505 or visit
www.CanyonRidgeChiropractic.com.