Castle Pines families celebrate first anniversary of business venture – The Garlic Knot
April 1, 2011
/
/
Comments Off

on Castle Pines families celebrate first anniversary of business venture – The Garlic Knot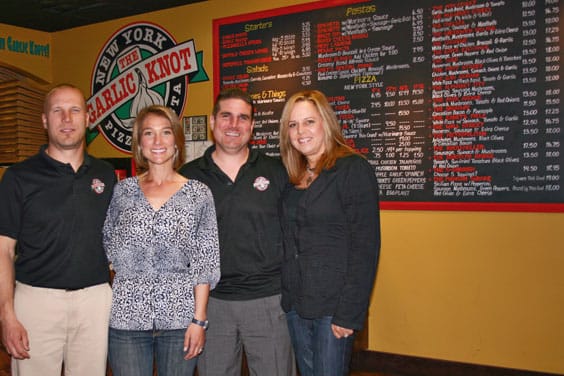 Steve and Jen Cooke (left) and Joe and Lin Giampietro (right) are Castle Pines residents and owners of The Garlic Knot in University Hills.
Article and photos by Elean Gersack
On April 8, the Cooke and Giampietro families will celebrate the first anniversary of their casual Italian family restaurant, The Garlic Knot, located in University Hills near Colorado Boulevard and Yale Avenue in Denver.
It's a family affair with New York roots. After tiring of the East Coast rat-race, Jen Cooke, her brother, Joe Giampietro, and their respective spouses, Steve and Lin, left it behind and moved to Castle Pines [North] in recent years.
"We wanted to open a growing business here – something near and dear to our hearts," said Steve Cooke. Through a mutual friend, Cooke met the owner of the original Garlic Knot in Littleton. This first location opened seven years ago by a New Yorker with financing from a partner back home. So, after a nine-month boot camp, the couples opened the University Hills location last April.
The kitchen boasts authentic gas-fired stone decked ovens and all-fresh ingredients including homemade dough that is hand-tossed and hand-stretched, homemade sauce, and a proprietary cheese blend. The delicious pizza and pasta is served from the counter at lunch, at your table from a full wait staff after 5 p.m., or delivered to nearby locations. A scrumptious make-your-own sundae bar is full of ice cream flavors and toppings for the little ones.
The restaurant focuses on great food, family and friends. The couples take turns so an owner is always present. "It's a friendly, Cheers type atmosphere," said Joe Giampietro.
Customers who take a stab at the daily New York trivia question receive a free order of Garlic Knots (a house specialty, of course) for the correct answer. "They come in as customers, but leave as friends," said Steve Cooke.
Giving back to the community is a core value for the Cookes and Giampietros. They team up with schools for fundraising nights, with families for make-your-own pizza birthday parties, and with the YMCA for summer camps, just to name a few.
The Garlic Knot is located at 2553 S. Colorado Boulevard in Denver. Stop by, mention this article and receive a free order of Garlic Knots with your meal. For more information, visit www.garlicknotpizza.com or call 720-542-3528.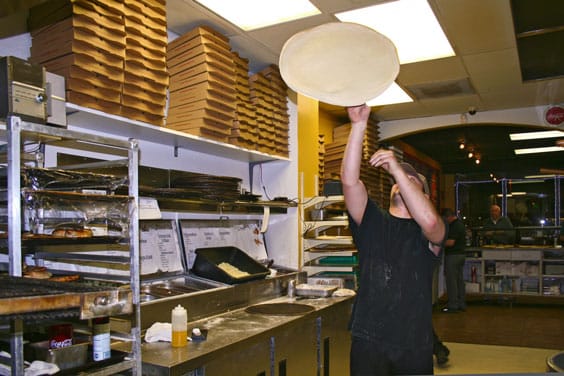 What a toss! Homemade dough is tossed into the air tocreate a fresh New York pizza at The Garlic Knot.