Castle Pines North Moves Forward with Plans to Incorporate
February 1, 2007
/
/
Comments Off

on Castle Pines North Moves Forward with Plans to Incorporate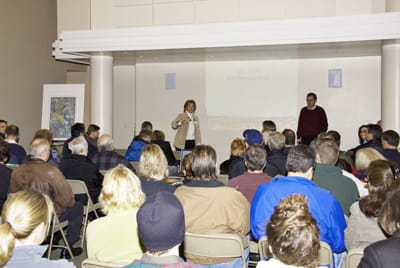 by Lane Roberts
By now, most residents have heard the news. Castle Pines North (CPN) filed a petition to incorporate as the "City of Castle Pines North" on December 5, 2006. Three minutes later, Castle Pines Village (VILLAGE) also filed a petition to incorporate as the "City of Castle Pines." Both communities have the business district on Castle Pines Parkway included in boundary maps. So, how did all of this get started?
In late October, 2006, residents and Master Association Board members learned of the VILLAGE's plans to incorporate in a Denver Post news article. The primary concern of the Master Association Board was that VILLAGE's incorporation plans included businesses located on Castle Pines Parkway but did not include the 3,200 homes in CPN.
"The Master Association Board was immediately concerned that the Village was flagpoling businesses along Castle Pines Parkway," said Master Assocation Board President and Preservation Committee leader Maureen Shul. Flagpoling is the process by which a distant annexed or incorporated property is connected by means of a right-of-way such as a street.
With CPN residents expressing serious concern, the Master Association Board quickly led the effort to form the Citizens for the Preservation of Castle Pine North. In a matter of weeks, this committee organized meetings, developed and distributed communication materials including a new website (www.cpnpc.org), and launched a petition drive. Committee members worked around the clock to successfully file a petion to protect CPN's right to vote on incorporation.
What Are the Next Steps in the Incorporation Process?
After petitions of both communities were filed in December, no action was taken by Douglas County District Court. On January 2, the CPN Preservation Committee members learned that the VILLAGE filed a motion to dismiss CPN's petition to incorporate. Given 15 days to respond, attorneys for the CPN Preservation Committee filed a response to the VILLAGE's motion in Douglas County District Court on January 17. In the response, CPN presented arguments that it had been in compliance with the applicable statutes and that the election to vote on incorporation should move forward.
In addition to filing a response, the Preservation Committee also filed a motion opposing the VILLAGE's petition to incorporate based on a number of defects in its petition. The motion filed by CPN argues that the VILLAGE's proposed incorporation area is not urban in character as required by state law.
So What Happens Next? When will CPN Residents Vote on Incorporation?
Filing the petition in December reserved our right to vote on incorporation. After the petition to incorporate was filed in Douglas County District Court, CPN residents were informed that an election would take place in approximately 90 days. However, the Douglas County District Court has not issued an order regarding the CPN petition. As of press time, the 90 day period leading up to the election has not begun. This could move the election from March to possibly May, or even longer. Until the court responds and sets an election date, the Preservation Committee has more time to gather important research and data. The committee is dedicated to communicating all information with residents before an election is held.
Moving forward, the Preservation Committee will provide open and factual two-way communication with all residents. During the incorporation process, the committee welcomes any questions, comments or concerns. Heard a rumor? Get the facts. Send an e-mail to cpnpc@cpnhoa.org or call 303-957-5300. As news develops, updates will be sent via community e-mail and posted at www.cpnpc.org.