CPN Metro District Moves to Include Lagae Ranch in Service Boundaries
February 1, 2007
/
/
Comments Off

on CPN Metro District Moves to Include Lagae Ranch in Service Boundaries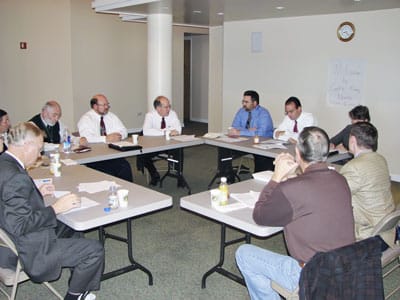 Photo by Terri Wiebold
By Terri Wiebold
On December 5, 2006, the Castle Pines North Metro District (CPNMD) Board of Directors held a public meeting with Douglas County representatives and the Board of County Commissioners (BCC) to discuss the District's need to include the Lagae Ranch property in its service boundaries for revenue purposes.
At the 7 a.m. meeting held at the Community Center, CPNMD Board President Mark Shively gave a presentation entitled "Why CPNMD Needs a Board of County Commissioners Policy-Level Directive on Lagae to Finance Renewable Water." Shively discussed the importance of renewable water for Castle Pine North (CPN) and the District's Integrated Water Resource Plan (IWRP).
Shively said that conclusions from the IWRP peg costs for renewable water solutions for CPN at $60 million for an Upper Platte solution, $90 million for a Lower South Platte solution, and $120 million for a Western Slope solution. According to Shively, the Metro board plans to fund its water solution with $35 million in property taxes, $33 million from water rates, and $22 million from Lagae – provided the BOCC approves the re-zoning of Lagae into its service boundaries.
Shively continued to say that the CPNMD may need to write checks for $40 million in 2007, and that the inclusion of Lagae Ranch is the District's opportunity to utilize tap fees in its funding solution. Shively asked the BCC to, "Act now to tie Lagae to our solution through a policy-level directive to County staff authorizing Lagae zoning and platting by July 2007."
County representatives expressed concern with accomplishing the re-zoning in the timeline given, and suggested the District request a specific plan update (separate from the master plan update.) Representatives also showed great interest in the impact that an incorporation of CPN would have on the process, and encouraged the CPNMD to consider a dissolution scenario.
According to Douglas County Director of Community Development Peter Italiano, no formal applications requesting a material change to the Metro District's Service Plan had been submitted as of press time.
For more information, contact the CPN Metro District at 303-688-8550 or e-mail jmcgrady@cpnmd.org.