Castle Pines Village Garden Club Annual Luncheon Blossoms & Blooms with Panache
June 1, 2018
/
/
Comments Off

on Castle Pines Village Garden Club Annual Luncheon Blossoms & Blooms with Panache


Article and photos by Nancy Koontz
Once more, the Castle Pines Village Garden Club's (CPVGC) annual luncheon and fashion show on May 11 was a sell-out success – standing room only. Held at the Castle Pines Golf Club, with its spectacular views, the event boasted 80 attendees. The weather was perfect on the day of the luncheon fashion show, as Garden Club members connected over a fabulous lunch with drinks, camaraderie, fresh spring fashions, and an enjoyable, satisfying day for all.
The CPVGC is open to all who love gardening and are interested in learning through fun and informative programs for garden, home and health. The Club sponsors and maintains two area gardens, one at Cherokee Ranch & Castle named the "Tweet Kimball Memorial Garden" and the Serenity Garden, a xeriscape garden on Village Lake in Castle Pines Village. It is a wonderful way to meet new neighbors and make friends by being a member.
The fashion show was hosted by Parker Panache (www.parkerpanache.com), which is located on "old town" Mainstreet in Parker (featuring "new style" fashion flair). The boutique prides itself on getting to know its customers and helping them pick the pieces that will make them feel and look extraordinary. The clothing definitely made the club member models look like true runway fashionistas! Also, many of Parker Panache's clothing pieces were for sale at the luncheon event.
Outgoing club president Liz Lively said, "I have loved and cherished every year as president; each club member has brought skills and enthusiasm to our organization, making it a joy to lead." The new slate of CPVGC officers were sworn in: President Janice Wright, Vice President Jane Niederbrach, Treasurer Terri Sundermann, Secretary Grace Gehret and Advisor Liz Lively.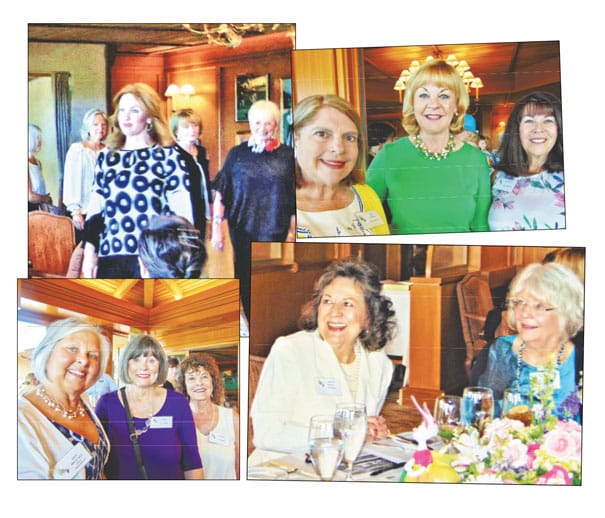 Wright said she is excited about the coming year and cheerfully noted, "I am thrilled to be the upcoming president of the Castle Pines Village Garden Club. This is a wonderful, kind, considerate group of women and we enjoy many social and travel events together."
Involvement in charitable giving and beautifying the environment are key to the group, with many upcoming events focusing on both. Activities will include field trips, prominent guest speakers, and several activities that will include spouses and family members.
To learn more about the Castle Pines Village Garden Club, visit www.cpvgc.org.