Castle Rock Parkway/North Meadows Drive now open
October 1, 2016
/
/
Comments Off

on Castle Rock Parkway/North Meadows Drive now open
IT'S OPEN! In partnership with Douglas County and the Colorado
Department of Transportation, Castle Rock's largest ever roadway project
is ready for vehicles. Drivers may have seen a new freeway exit sign
off I-25 (pictured above right).

Information and map provided by the Town of Castle Rock; photo courtesy of Lynn Zahorik
We have all been watching the progress, and now it is time to start driving – Castle Rock Parkway is open to vehicular traffic.
Here are some things to know about driving on the new two-mile road:
– The speed limit is 35 mph. Please drive safely and pay extra attention.
– It may take some time for traffic to level out as we all find our new road routine. Traffic could be extra heavy on Castle Rock Parkway as motorists try using the new road. Meadows Parkway is still a good route to U.S. 85 and I-25.
– At U.S. 85, there is a full interchange, so drivers can access both directions of the highway and Castle Rock Parkway. It is controlled by one signal span, so drive carefully and follow the signs and striping.
– At I-25, a roundabout gives drivers access to all directions. Remember to yield to traffic already in the circle.
The project broke ground in October 2013. The new road is expected to improve operations at the current Founders/Meadows Parkway interchange with I-25 and the intersection of Meadows Parkway and U.S. 85. It will also provide a second northern access for residents on the west side of town.
The project is Castle Rock's largest transportation project ever, and the road is a partnership among the Town, Douglas County and the Colorado Department of Transportation. Learn more about this significant project at CRgov.com/NME.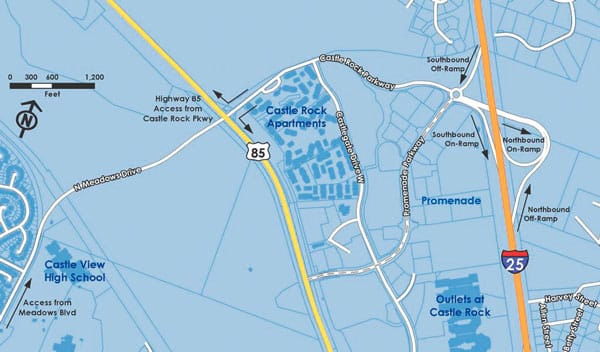 Castle Rock Parkway and North Meadows Drive now provide additional access to U.S. 85 and I-25 The speed limit for the new two-mile road is 35 mph.