Catch the zaniest rivalry in basketball – coming to RCHS February 4
January 1, 2015
/
/
Comments Off

on Catch the zaniest rivalry in basketball – coming to RCHS February 4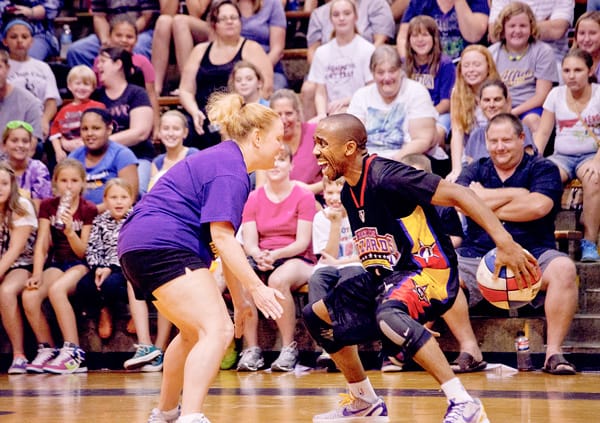 Defense! Defense! King Arthur's evasive behind-the-back dribble is hard to defend – just go ahead and foul him!

By Patte Smith; photos courtesy of the Harlem Wizards organization
Basketball "fan-antics," flying fast breaks, riotous rebounds, and amazing alley oops are the name of the game as the world famous Harlem Wizards try to outscore the newly-infamous "Canyon Crew."
Wednesday, February 4 at 7 p.m. the "Canyon Crew," a team of 15 hand-picked teachers and administrators from the nine feeder schools for Rock Canyon High School (RCHS), will full-court press the Harlem Wizards in a 4-quarter basketball dual.
The Crew's coach is none other than the legendary RCHS Principal Andy Abner. Stated Abner, "The team is working hard to prepare for the game. We have zero practices under our belt but each team member is mentally preparing for the big game. I'm confident that the Canyon Crew's efforts will be rewarded and it will be the start of a new dynasty."
With aerodynamic athleticism, coupled with unbelievable sky-high slam dunks, world class tricks, hilarious humor, and basketball wizardry, the game will bring laughter and excitement to the entire audience. Remember, the Wizards are tricksters! Be on the lookout, fan participation is a must.
When asked about the Crew's game day strategy, Abner confirmed that the team will be running mostly man-to-man defense with a little 2-3 zone mixed in to try and create the tempo. "Offensively, our expectation is to let it fly – if a player is open they need to shoot the ball!" emphatically stated Abner. "I expect one-hundred percent effort and an enormous smile on the face of each Canyon Crew player. Sweat and determination in having fun is a must!"
This is a special night for families, friends, and basketball enthusiasts. The dual between the teams will entertain people of all ages and should be one to remember, complete with music, pranks, stunts and lots of laughs. One devoted fan of the Wizards noted, "The energy on the court will be dynamic and I will not be able to stop laughing. It will be a blast!"
Don't wait – get your tickets now for this entertaining and amazing basketball spectacular. "Courtside Plus" premium seats are also available with a private meet-and-greet with the players prior to game.
Tickets are for sale at www.harlemwizards.com. Tickets are available for purchase at all RCHS feeder school offices. Pre-purchased tickets are $10 per students and $12 for adults, with a 99 cent processing fee for online tickets.
Game-day tickets are $12 for students and $15 for adults. "Courtside Plus" premium seats are $25 per ticket. The RCHS Boys Basketball Booster Club, a 501(c)(3) organization, is running this event and all proceeds will go to this program.
The RCHS Band and RCHS Poms team will be performing. Concessions will be sold at the event, as well as Wizards souvenirs and RCHS basketball apparel. The Wizards will also be visiting several schools the day of the event to give the kids a "sneak peek" of the show during the students' lunchtimes.
Rounding off "Wizards Week," the Harlem Wizards will also be playing at Mountain Vista High School on February 2, Castle View High School on February 5, and Douglas County High School on February 6.
"This is going to be an amazing event and I highly encourage all staff and students of Rock Canyon High School, Rocky Heights Middle School, Redstone Elementary, Buffalo Ridge Elementary, Timber Trail Elementary, and Wildcat Mountain Elementary to attend and support the Canyon Crew," states Coach Abner. "It will be basketball at its funniest!"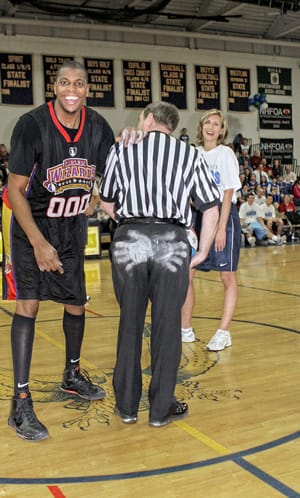 Chalk it up to fun by 6'7" Harlem Wizard's "Swoop" – it is a spanking shame how he treats the refs.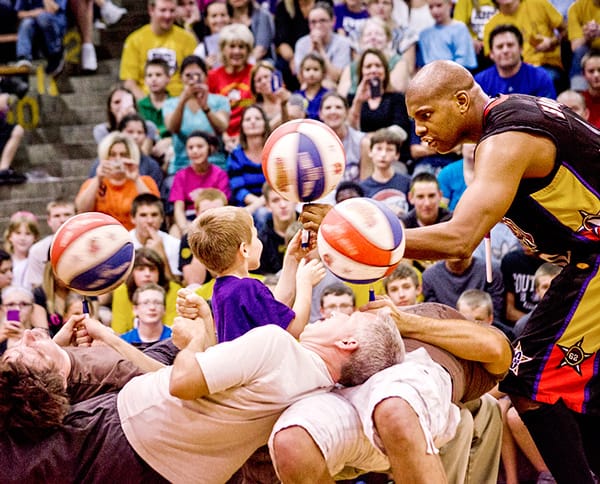 Forming a human pyramid circle and using writing utensils to hold the balls up, Swoop instructs, "This is the write way to spin the ball."