Chalk It Up 4 Charity returns and becomes an annual event
August 1, 2018
/
/
Comments Off

on Chalk It Up 4 Charity returns and becomes an annual event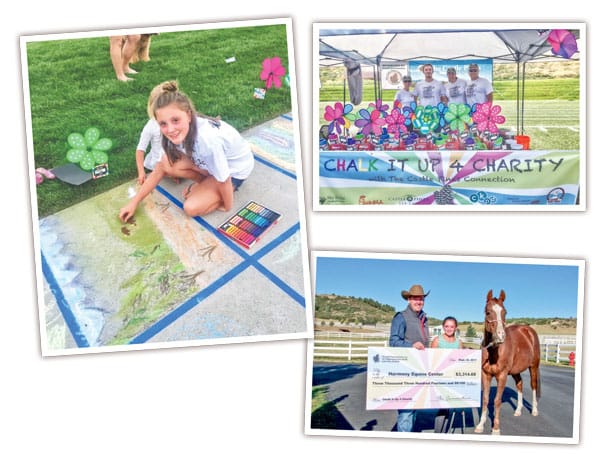 2017 winner 11-year-old Isabella Bird (above left) went all out on her landscape featuring elk and mountains and trees. Bird presented Harmony Equine Center (lower right) with a donation check for $3,314.69.
Above right, Connection staff members enjoyed handing out the baskets filled with goodies for participants.
By Terri Wiebold; photos courtesy of Zoë Zizzo and Megan Hassler
Back by popular demand, The Castle Pines Connection is thrilled to again be sponsoring its "Chalk It Up 4 Charity" contest to run in conjunction with the free Party in the Park event at Elk Ridge Park on Saturday, August 18 from 5 p.m. to 9 p.m.
Chalk It Up 4 Charity is a way for budding artists 14 and younger in the community to showcase their artistic ability (with chalk) while enjoying the beautiful outdoors and enjoying time with friends – all in the name of charity. One hundred percent of the event proceeds will be donated to a Douglas County nonprofit, and the contest winner gets to decide which one!
Here is how it works: Purchase a 2.5' x 3' sidewalk square in advance of the event for only $5 ($10 on the day of the event) by visiting www.castlepinesconnection.com. Only 100 squares will be available for purchase, so be sure to sign up early to ensure you get a spot. Plan in advance (or at least get a few ideas) what you would like to draw to fit the theme of "What I enjoyed this summer in Castle Pines." On the day of the event (August 18), check in at The Connection booth at 5 p.m. to receive your square assignment and your "creative caddy," which includes a T-shirt, bubbles, two beverages, a free Chick-fil-A kids meal gift card, a tasty sweet treat and chalk. Judging begins at 7:30 p.m.
Squares will be featured along the west sidewalk of the sports field at Elk Ridge Park, so parents can either join in the fun and participate alongside their kids or relax and enjoy the festivities on the field while the kids are entertained.
Judges will award points for creativity, use of color and overall execution. The three winners will receive bragging rights and their photo in the October issue of The Connection along with several fun gift certificates, including a pizza and bowling party from Celebrity Lanes. The first-place winner will also be invited to deliver the donation check to the Douglas County nonprofit of his/her choosing personally with a group of select family and friends.
There are still a few sponsorship opportunities available, so please contact editor@castlepinesconnection.com if you or someone you know would be interested in sponsoring this event. Donations will also be accepted. Note: In the case of inclement weather, creative caddies will still be available for pick up following the event, but no judging will occur and prizes will be added to the charity contribution.
To view a slideshow of last year's event, visit www.castlepinesconnection.com and click on "Photo Album" and then "2017." Call Terri at 303-785-6520 with any additional questions.