October 1, 2019
/
/
Comments Off

on Chamber Ch-ch-ch-changes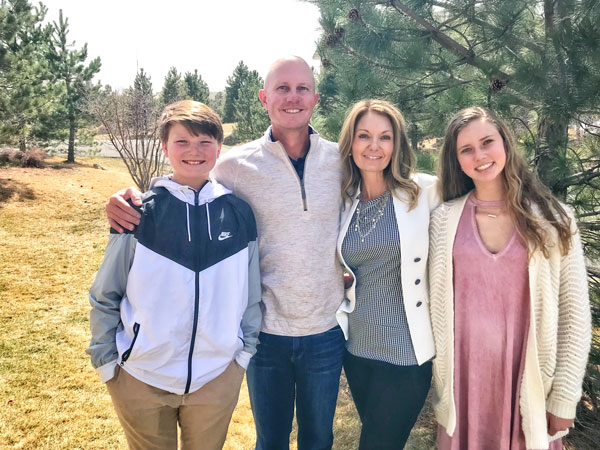 Castle Pines resident Shannon Goltl was recently hired by the Castle Pines Chamber of Commerce as the new membership director. Goltl is pictured here with her son Dylan, husband Derk and daughter Ally.

By Terri Wiebold; courtesy photos
As the Castle Pines community continues to grow and change, so do the organizations that support it.
Following four years of inspirational leadership and unprecedented growth as the Castle Pines Chamber of Commerce executive director and membership director, Amy Shanahan will be formally leaving her role with the Chamber by the end of 2019.
"After four years, I feel in my heart that it's time for me to move on and begin the next adventure, and am thrilled to be able to leave the organization in the best shape of its existence," stated Shanahan in a letter to the chamber membership.
Tina Hansen, who joined the Chamber last year, will assume the duties of executive director in addition to her current role as marketing director.
"I have so much confidence in my amazing co-workers Whitney, Karin and Tina, and I know that they will continue to make our Chamber the very best in Colorado," Shanahan assured.
To fill the vacancy of membership director, the Chamber recently hired Castle Pines resident Shannon Goltl.

Chamber Staff: Tina Hansen, Amy Shanahan, Whitney Shank and Karin Miller
"I am more than grateful for all of the friendships that I have made during my time with the Chamber. When I took this job four years ago, I had no idea that I would have the pleasure of meeting so many fun, smart and incredible business people and that I would have the honor to work side by side with such amazing and bright women. I will always be thankful!"
– Amy Shanahan, outgoing membership and executive director

Goltl has a background in sales, and in most recent years she raised her two children and has been an active volunteer and entrepreneur. Goltl remarked, "This job is a dream come true for me! I am excited to build relationships with the businesses and the people in our community, and I look forward to continuing to grow our Chamber. The events and programs that we offer are so beneficial to our members and the positive and fun attitude of the staff is something I am so excited to be a part of."
"Our Chamber is so fortunate to have found amazing staff members from within our community," stated Shanahan. "They are bright, energetic and passionate about their community,"