Colorado Municipal League; Educating about municipal government
August 1, 2009
/
/
Comments Off

on Colorado Municipal League; Educating about municipal government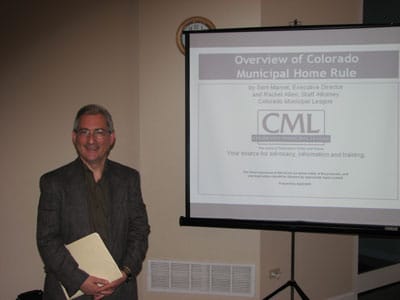 Executive Director of the Colorado Municipal League, Sam Mamet, presented information to the City of Castle Pines North City Council in May regarding Colorado Municipal Home Rule.
Article and photo by Terri Wiebold
The Colorado Municipal League (CML) is a nonprofit, nonpartisan organization that has served and represented Colorado's cities and towns since 1923.
Its mission is twofold: to represent cities and towns collectively in matters before the state and federal government; and to provide a wide range of information services to assist municipal officials in managing their governments.
The City of Castle Pines North joined the list of 271 incorporated municipalities in Colorado as a statutory city last year, and also joined the CML.
The CML provided training for the city's newly elected officials, and in May, presented an overview of Colorado Municipal Home Rule to council members and residents. The presentation is available online at www.cml.org.
The CML has an abundance of resources available to help educate about municipal government, including an informational brochure about running for
municipal office. The Municipal Candidates Guide brochure is available online at www.cml.org.