Come out and cheer for the kids!
October 1, 2013
/
/
Comments Off

on Come out and cheer for the kids!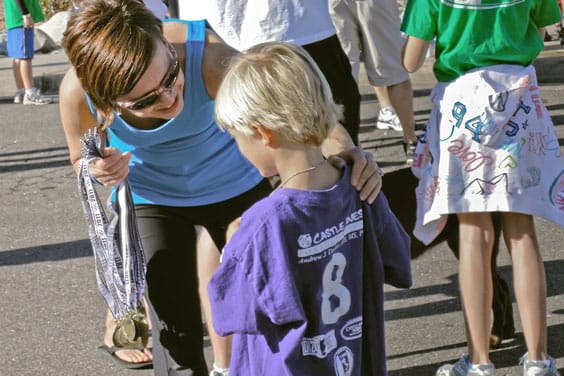 Chairperson Paige Taylor congratulates then-kindergartener Grant with a hug and a medal as he finished the race in 2011!

Article and photo by Elean Gersack
Buffalo Ridge Rock Slide is October 5
Buffalo Ridge Elementary School (BRE) will host its annual Rock Slide Fun Run on Saturday, October 5, at 9 a.m. The race will include both a 5k run and a 1-mile run/walk.
Come out and cheer for the kids! Castle Pines neighbors are encouraged to come out and support students as they race around the neighborhood. Make signs, play some music, or give a shout as students, families and school staff race around the neighborhood. The racers will follow the routes listed below, so besides cheering them on, be on the lookout and help keep them safe.
1-mile loop: Campden Place/Shoreham Drive/Keech Way/Monarch Boulevard/Tenby Way/Campden Place.
5k loop: Campden Place/Shoreham Drive/Claire Drive/Yorkshire Drive/Monarch Boulevard/Shoreham Circle/Monarch Boulevard/Oxford Drive/Brixham Circle/Oxford Drive/Shoreham Drive/Campden Place.
According to Paige Taylor, BRE Rock Slide chairperson, the Rock Slide Family Fun Run has become an integral part of BRE tradition and school pride.
"We are excited to keep it going again this year giving students, parents, family members, and even members of the community a chance to participate in a fun event that promotes togetherness along with health and fitness. We would love to see everyone there!" said Taylor.