CPN swimming "Storms" ahead
February 1, 2010
/
/
Comments Off

on CPN swimming "Storms" ahead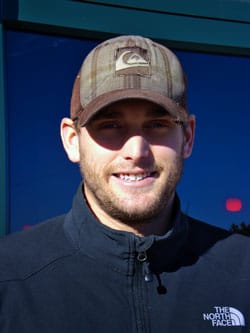 Coach Erik Goodrich
Article by Kathy Dunker with photo by Lisa Kochevar
Although it may seem like a long way off with the current cold temperatures and icy roads, Castle Pines North's newest summer swim team, Castle Pines Storm, is gearing up for their second season. Storm got off to a great start in 2009 with 99 swimmers and a group of very dedicated parents. This year the team plans to expand to 125 swimmers which will mean even more fun for more families!
Storm is excited to introduce their new head coach, Erik Goodrich. Goodrich, originally from Glendale, Arizona, swam competitively since the age of eight. Goodrich continued to swim competitively for more than fourteen years and still enjoys being around the pool and all the excitement that swim teams provide.
A very accomplished swimmer, Goodrich broke every high school record for swimming, was a 12-time Conference Champion, and was the team MVP his junior and senior years. Goodrich attended Ball State University in Indiana where he spent four years on the college varsity swim team and earned his bachelor's degree in Sports Management.
Goodrich is currently the head coach of the Castle View High School girl's swim team and has taken a number of those swimmers to regionals. Goodrich enjoys seeing young swimmers realize their potential. He says that swimming is "a great team sport where you can excel individually."
In addition to new coaching staff, Storm also has several new Board members that have taken the helm. Lisa Kochevar will be serving as the new Board President and Melissa Jankowski will assist as the parent representative. Kochevar says her view of the team is, "a small, family oriented swim club who believes in ensuring children have a good time, learn competitiveness, and enhances their physical fitness."
In addition, Kochevar's son William had the following to say about his Storm experience last season, "I had fun in the sun. I made a lot of new friends and look up to them because they are so good at swimming and I want to be like them!"
Storm, part of the Mountain Hi Swim League (MHSL), will be holding registration on Saturday, March 6, at the HOA 1 clubhouse. While returning swimmers are guaranteed a spot on the team, new swimmers will be required to pass a swim test displaying their ability to swim the minimum of 25 meters unassisted in any stroke.
The summer season will begin on May 25 and run through mid-July. Practices will be held Monday through Friday at the HOA 1 pool on Tenby Lane between 7 a.m. and 9 a.m. Practice times and length will vary depending on age and ability. All swimmers will be eligible to compete in local swim meets which will be held on Saturday mornings starting in early June and continuing through July.
If you have a young swimmer on your hands, please consider Castle Pines Storm for some summer fun and friendly competition! Registration is open to kids from 5 to 18 years old. For additional registration information and swimming try out times, please check their website at www.castlepinesstorm.com.