Denver Broncos named Super Bowl VIII champions
July 1, 2019
/
/
Comments Off

on Denver Broncos named Super Bowl VIII champions

Information and photos provided by Castle Pines Athletics
Super Bowl champions were once again named for kids playing recreational youth flag football through Castle Pines Athletics (CPA). The Denver Broncos took home the title (and trophies) for the third and fourth grade age group – led by head coach Matt McDonald, while the New York Jets claimed the same for the first and second grade category – led by head coach Ben Ingalls.
The spring NFL flag football season wrapped up on May 22. Playoffs were held May 17 at Elk Ridge Park, with the top two teams in each age group advancing to Super Bowl VIII. This is the fourth year Castle Pines Athletics has brought the NFL flag football program to Castle Pines.
Second place went to the New Orleans Saints (first and second grades) and the Philadelphia Eagles (third and fourth grades).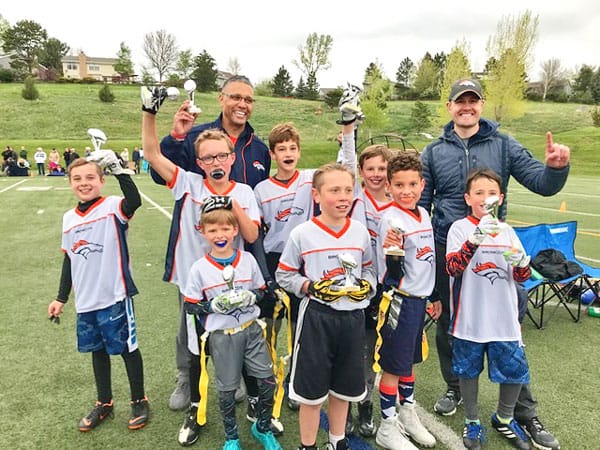 Denver Broncos pictured above, left to right: Coaches: Matt McDonald and Mark Coleman; Players, middle row: Drew Reid, Ben Jones, Jackson Coleman and Jack Helm; Players front row: Tate Patterson, Davis Oxton, Alex McDonald and Hunter Munro; Players not pictured: Wyatt Dunker and Theo Lee.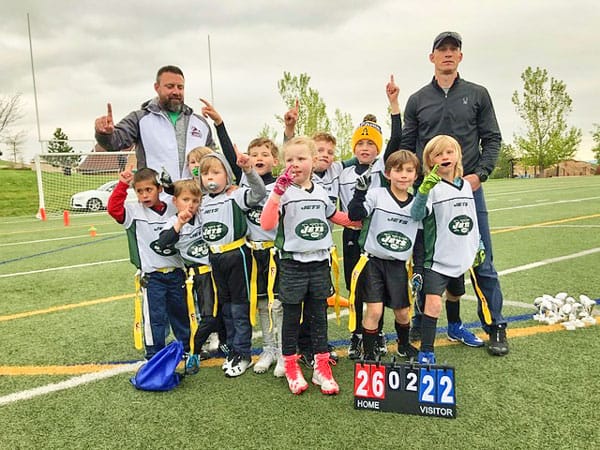 New York Jets pictured left, left to right: Coaches: Ben Ingalls and Josh McCrary; Players: Roary Lively, Gray Keough, Liam Beach, Sawyer Gressell, Cecil McAtee, Isla Beach, JT Ingalls, Blake Dennehy, Ryan Keough and Justis McCrary.

To register or learn more about the flag football program, visit www.castlepinesathletics.com.