Dragonfly Celebrations parties make dreams come true
February 1, 2014
/
/
Comments Off

on Dragonfly Celebrations parties make dreams come true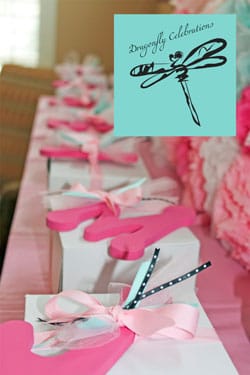 Dragonfly Celebrations, a new party-planning business owned by Castle Pines resident Page Warnke, plans celebrations for adults and children alike, like this "pretty and pink" party for a child's birthday.
By Lisa Crockett; photos courtesy of Dragonfly Celebrations
Everyone loves a party, but Castle Pines resident Page Warnke loves everything leading up to a party, too.
"Party planning is really a passion for me," said Warnke, who recently founded a new company called Dragonfly Celebrations. "It lets me be creative and allows me to interact with and meet people. I love to be part of people's celebrations and let them have it be stress-free."
Warnke, who has a background in elementary education, got her start planning parties for her four children, as well as parties at Timber Trail Elementary where her two older children are students. Last year, Warnke chaired the school's elaborate Wizard of Oz-themed daddy-daughter dance.
"Up until now, my focus has been mostly on children, since that's where I spend a lot of my time," said Warnke. "But I've done everything from holiday cocktail parties to garden parties, and I'm looking forward to expanding to lots of different kinds of events."
Warnke said she finds inspiration in her everyday life, and also spends time online researching new ideas to stay on top of current trends. She's comfortable working with clients who already have ideas, as well as hosts who just want her to take over and plan things from start to finish.
"I recently did a birthday party for a girl who just knew she wanted something pink and pretty, and I took it from there," said Warnke. "It's fun to get that little idea and run with it."
Warnke offers her services in various packages to allow client flexibility in the level of services they wish her to provide. The first package is called "digital styling," which includes a phone consultation, and an online plan – including links where clients can purchase the recommended party supplies – for any occasion. The "planning" package includes complete details and also includes arrangements for the menu, decoration, necessary vendors and party set-up. The "full service" package includes coverage of all party details, including Warnke's presence throughout an event for a completely stress-free experience.
"The way I have it structured, I can work within every budget, and it gives clients a sense of ease for me to handle the details," said Warnke. "I also love that I can offer things that are unique; when you use my services, you won't have a 'cookie-cutter' party."
Dragonfly Celebrations plans weddings, parties for adults or children, and corporate events. For more info, visit www.dragonflycelebrations.com.