Enhanced safety features welcome families to the new school year
August 1, 2018
/
/
Comments Off

on Enhanced safety features welcome families to the new school year
Parking lot and traffic flow improvements at RHMS were designed to decrease congestion and improve safety.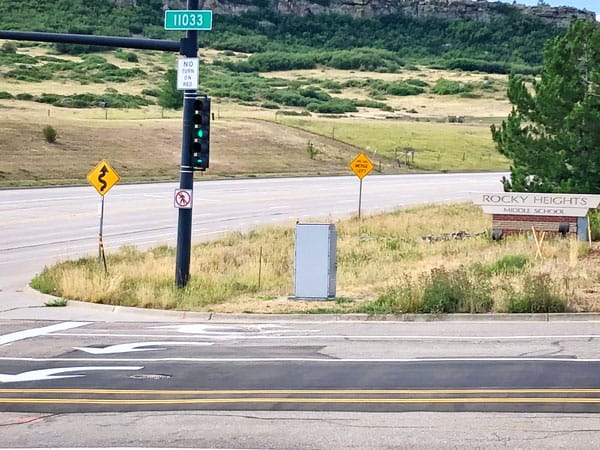 Article and photos by Elise Brassell
It's already time! After a short summer break, it is time for families with school-aged children to start the school year with new teachers, new schedules and also for families at Rocky Heights Middle School (RHMS) – a new traffic flow pattern.
The school's parking lot has been under construction for several months to continue to improve the drop-off and pick-up experience at the school during peak times. New for the 2018/2019 school year, RHMS parents dropping off their students and returning to Castle Pines or other points south will have a new "exit ramp," taking traffic from the school's parking lot directly to the southbound lane of South Monarch Boulevard.
Traffic forms two lanes inside the school's parking lot heading south and, prior to the new construction, both lanes would exit the lot using the traffic light on the north end of the lot. With the new exit ramp, southbound traffic flow can exit the lot sooner, without the need to use the traffic light.
RHMS has also improved exit lanes at the traffic light, which will be easier to navigate thanks to the removal of a small median, now replaced with a second northbound left turn lane. With these new traffic flow improvements, it seems like a smooth start to the school year is ahead for the RHMS driving community.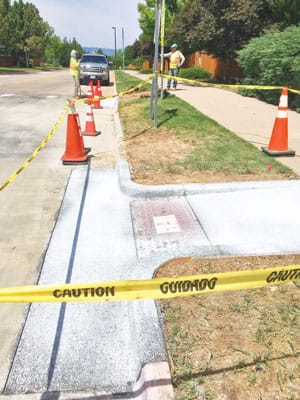 Improvements to an unmarked crosswalk at Monarch Boulevard at Shoreham Circle in the City of Castle Pines will make it safer for walkers heading to and from American Academy charter school and also Elk Ridge Park.
The Americans with Disabilities Act (ADA)-compliant crosswalk will now be equipped with an activation button, which will stop the flow of vehicular traffic across Monarch Boulevard. As of press time, the button had not yet been installed, but was expected to be in place for the start of the American Academy school year.