A youthful dream creates a full-grown happy reality
August 1, 2018
/
/
Comments Off

on A youthful dream creates a full-grown happy reality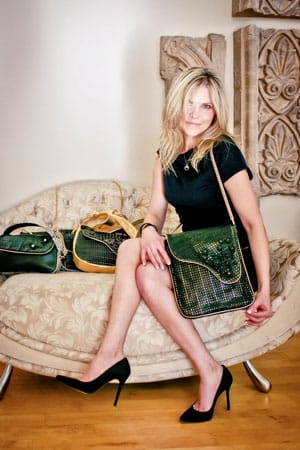 Sandra Ozolinsh hand tailors each one-of- a-kind handbag using genuine leather and exotic skins for her collection of unique women's purses.
By Patte Smith, photos courtesy of Sandra Ozolinsh
Castle Pines resident Sandra Ozolinsh had a lifelong dream of designing and creating all types of art and hand crafts since she was a little girl growing up in the Baltic country of Latvia. Famous for their artistic skills, Latvians continually work on their arts and crafts that include sewing, knitting, weaving, woodcarving and clay pottery that were created in the simplest of forms. "The wits and skills of these techniques were and still are passed from generation to generation in every family," Ozolinsh explained.
"I was born with the gift and passion of art and design," she grins. "I was exposed to the arts – needlework and all varieties of handiwork. I remember as a little girl spending time in my grandmother's home learning her sewing secrets. She still is an impeccable seamstress at age 94. At night when she was asleep and softly snoring, I would lay awake envisioning all kinds of artistic designs and patterns that I wanted to create, never realizing that one day it would be possible."
"In the 1990s, there weren't opportunities in my native country to follow my dream of crafting something of my own," she said. "My high school sweetheart and I married and moved to the United States when I was 18. He wanted to pursue his career in professional hockey."
While her husband, Sandis Ozolinsh, played professional hockey and accomplished his big dream by winning the Stanley Cup in 1996 with the Colorado Avalanche, she focused on supporting his career and raising their two boys, Christopher and Roberts. "It was a lot of work and we traveled quite a bit."

The Ozolinsh family on vacation trip, left to right, Roberts, Christopher, Sandra and Sandis.
"I love my boys very much — they are the best thing in my life. I am a single mom now and the rest of my family lives in Latvia. My love of art and design keeps me positive and helps me view my life challenges a little bit easier. I have lived in Castle Pines since 1999 and the boys and I enjoy nature, the lynx and deer and the beautiful mountains – it is very peaceful."
Having an artist's heart, Ozolinsh is enthralled to now see her visions and creations come alive. "The time has come for me to accomplish my lifelong desire of creating hand crafts and making people happy."
Ozolinsh designs and fashions high-quality, one-of-a-kind handmade handbags in her home. She uses only 100 percent genuine leather and exotic skins – such as python skin, embroidered flowers, ornaments, some Swarovski crystals and Italian hardware.


Her designs have caught the attention of Hollywood and she has been asked to create some little bags for Golden Globe and Oscar winners' gift bags. "It is pretty exciting but a lot of work," she noted.
"We all have dreams of how we would like our lives to be, but we often don't think they will ever become a reality. I am shy but passionate about what I want to learn and accomplish. And to quote Walt Disney, 'If you can dream it, you can do it'."
To view Ozolinsh's collection of handbags and designs, visit sandraozolinshdesign.com.