Exploring personal passions in retirement
August 1, 2015
/
/
Comments Off

on Exploring personal passions in retirement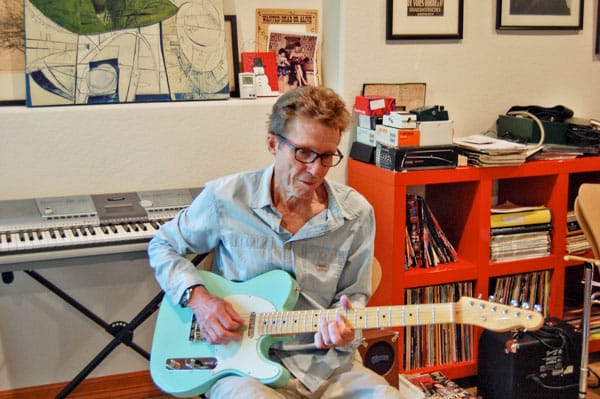 Les Appel, pictured here in his home studio, enjoys playing live music at various venues around town and will be performing at The Social two different nights in August. Come and check him out.
Article and photo by Amy Shanahan
In his retirement, Les Appel is engaging in two of his favorite passions: taking care of animals and playing his electric guitar. Appel moved to Castle Pines Village from California in 2006 along with his wife and young daughter, and he hasn't looked back.
Over the past couple of years, Appel has earned a reputation as a wonderful caregiver for pets in our Castle Pines community. Appel regularly walks dogs for clients who are no longer able to do so, and he is frequently hired to care for pets whose owners prefer not to board their animals at a kennel. His business has grown considerably over the last year, but he is resolute about keeping his business small and personal. "I want people to know that it's just me taking care of their pets. I've earned their trust and they know that their pets are in good hands."
In addition to his pet business, Appel has established himself as a talented guitar player in the Denver music scene. Appel took up the guitar at a young age, and played professionally in Denver in the 1970s. A move to California followed where Appel had a very successful career in the women's apparel business, and he was fortunate to be able to retire at a young age.
Upon retirement, Appel took up playing his guitar again and began studying blues guitar intensely. After moving back to Colorado in 2006, Appel rekindled his friendship with other musicians, and began playing regularly once again. "Playing music makes me feel incredibly good," remarked Appel. "The thrill is to augment a really good singer. It's fun to work with a great singer because it's really about them, and I'm just there to make the singer sound prettier." Appel now plays about twice per month and may often be heard performing at The Social in The Village at Castle Pines.
Appel and friends will be performing at The Social on August 14 and August 28. To reach Les Appel in regards to his pet services, please contact him directly at 310-780-4539.