Eye Level Optical sees eye to eye with clients
April 1, 2017
/
/
Comments Off

on Eye Level Optical sees eye to eye with clients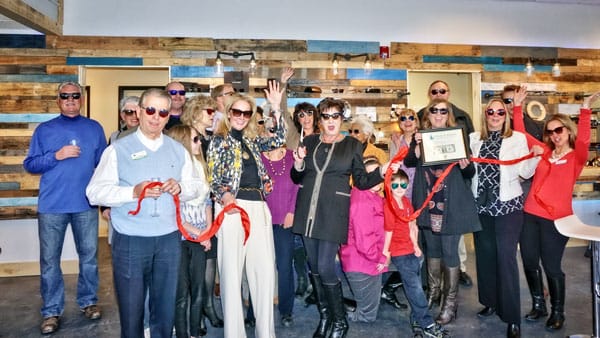 Eye Level Optical celebrated its grand opening and ribbon cutting ceremony last month on Village Square Drive.

By Kathy Fallert; photo courtesy of Paul Masovero
Eye Level Optical is the new business in town. Located right next door to the Bundt Shoppe on Village Square Drive in Castle Pines, co-owners Eileen Barry and Angela Gosling have a different approach to eyewear than your average big-box retailer. They offer a very personalized approach to fitting you in glasses that are just the right style and type for you, without trying to oversell. They use their experience and apply it to each individual for the best possible look and value.
Barry is the second generation in the optical business with her father and brothers in the field as well. Barry has 30 years in a variety of capacities, including a lens representative in the frame industry, insurance and electronic medical records software sales. Her partner and colleague Gosling was working as a rep in the area with also 30 years experience under her belt managing optical stores and as an optical trainer, as well as the president of a lens company in Istanbul, Turkey. The two ladies decided to join forces to open Eye Level Optical in Castle Pines, which had its ribbon cutting last month.
Gosling commented, "After all of these years in the industry, what sang to my heart was the idea of providing good quality eyewear with full transparency to the consumer. We support independent companies with unique products. We want you to be different, look unique and stand out." Eye Level provides styling appointments either individual, family appointments or even private, high-profile group wine and cheese appointments. They also offer eye exams and vision screenings by appointment with partnering optometrists.
While Barry and Gosling are established in their careers, they feel the desire to be part of the community and to give back to the community. They support Hide in Plain Sight by donating lenses and acquiring free frames for underprivileged or homeless residents. In addition, they make donations for every person who checks into their store on Facebook.
Eye Level Optical offers something for everyone with a wide range of price points. They have a Puma line, which is very colorful and appealing to the younger set. They also offer a number of other lines, including Bottega, Gucci, Gwen Stefani, Costa sunglasses, and Ovvo the high-tech, unbreakable line. The two women are committed to attending the International Vision Expo every year to gather information on the latest products, materials and ideas when it comes to vision.
Barry and Gosling take their styling seriously and feel that their extensive experience and knowledge in the field leads them to provide every client with the best fit for them. Gosling remarked, "It all depends on the needs of the client. You wouldn't want to wear the same glasses for riding a bike as you do to play golf. That's like wearing high heels to go hiking. We want to fit you right the first time with a high-quality product that works for you." The store is open Monday through Friday and every other Saturday to start, and they also accept evening and weekend appointments by request.
For additional information, visit www.eyeleveloptical.com.