Food delivery on the move in Castle Pines
September 1, 2019
/
/
Comments Off

on Food delivery on the move in Castle Pines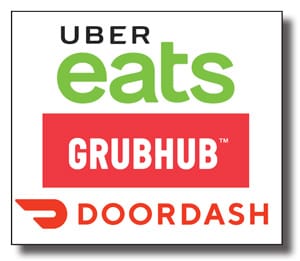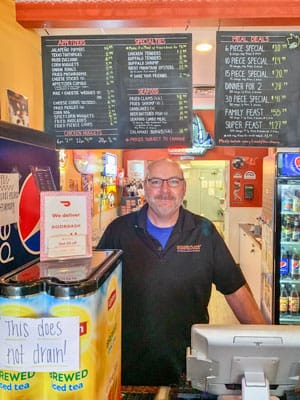 Golden Flames Hot Wings owner Scott Ulrich has seen an increase in his business since partnering with DoorDash.

By Steve Whitlock; photo by Terri Wiebold
There are now a number of food delivery services available to the residents of Castle Pines. They include Uber Eats, GrubHub and DoorDash, each of which has been growing its delivery orders between 55-90% a year – evidence of its increased popularity.
One local driver, Sina Bikloo, who delivers for GrubHub and DoorDash, is fulfilling 12 to 15 orders a day. He said, "The average meal order is maybe $30, so the cost is pretty reasonable for most people, even families to order delivery." He said it is really the convenience that people find attractive, as they are busy and want something that is easy.
Ordering is pretty straightforward. Each company has an app that can be downloaded onto a smartphone. From there, enter your name, address and credit card and you are ready to order. A recent check on delivery times revealed 30-40 minutes to be typical. Additionally, many restaurants don't charge a delivery fee, or the fee is minimal at only $2.
There are a lot of options too. Of the dozens of restaurants delivering to 80108, those include popular favorites like Golden Flame Hot Wings, Las Fajitas, Pino's, Via Baci, Beau Thai II and The Bundt Shoppe. There are many more like Chili's, Chick-fil-A, Noodles & Company, Firehouse Subs, Corner Bakery Café, Village Inn, On the Border and Chipotle – to name a few.
When asked what his delivery experience has been like, Bikloo said, "I've been driving for almost three years. Most people are very friendly and appreciative. I don't have a direct boss and I get to work whenever I want to. The flexibility is what I like the most." He said something that he would advise future drivers of is that they are responsible for maintenance, fuel and wear on their car. Delivery trips can add up quickly and translate to a lot of miles on a car. Tips are greatly appreciated.
An item to note is that food delivery is also becoming a popular birthday present as people send donuts, ice cream and even breakfast to loved ones. Again, it is the convenience that seems to be the draw, as well as sending a unique gift.
For now, the industry continues to be one of the fastest growing, and as a result, the competition is heating up. The good thing is, there are a number of companies to try and a lot of restaurants from which to order your favorite foods. Download all three apps to see the full panorama of who delivers to you.