Get ready for eggcitement at the Egg Scramble!
April 1, 2019
/
/
Comments Off

on Get ready for eggcitement at the Egg Scramble!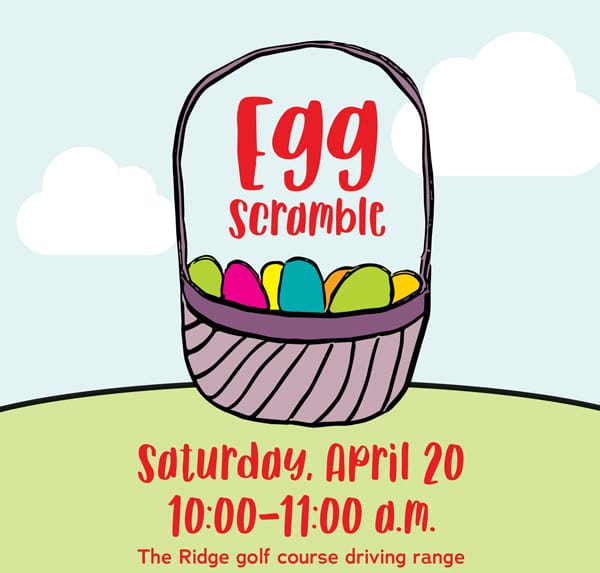 By Elise Brassell
Calling all kids 11 years old and younger and their families! The City of Castle Pines and The Castle Pines Connection are again partnering to bring a new community event to Castle Pines – a spring egg hunt at The Ridge at Castle Pines North golf course. Join in the fun on Saturday, April 20 from 10 a.m. to 11 a.m. at the Egg Scramble.
The city is excited to be expanding the number of events offered to the community this year. "Our primary goal with events is to create opportunities for our community to come together and enjoy themselves," said City Manager Michael Penny. " Working with local businesses and partnering in this way is a great kick-off to the event season."
The Egg Scramble will take place outside on the driving range at The Ridge – rain, snow or shine. Come early to enjoy complimentary coffee, hot chocolate and donuts and remember to bring a basket to carry treasures home. The egg scramble will unfold in three phases – egg hunters ages 0 to 4, ages 5 to 7 and ages 8 to 11. For a lucky few, there are special prizes stashed in the eggs. Among the hidden treasures are a free golf lesson with The Ridge's head golf pro Bryson Hotchkiss, a bowling and pizza party for four at Celebrity Lanes, a $50 gift card to Boondocks and lots of $10 gift cards to Smoothie King and The Bundt Shoppe – in addition to a variety of candy, stickers and toys in each egg. There will be a very special bunny on hand for those memorable photo opportunities as well.
The Ridge is hosting a golf tournament the same morning, so parking may be limited in their parking lot. Residents are encouraged to park on Castle Pines Parkway, which will be available for on-street parking. Park Place restaurant at The Ridge will be open for brunch and lunch following the event, and reservations are highly recommended. Call 303-688-4301 to book your reservation.
Volunteers are still needed from 8:30 a.m. to 11:00 a.m. to help make the day "eggstra" special. Contact event coordinator Jolene Richardson at jolene@castlepinesco.gov for more information.