Get to know your community leaders – A discussion with Aspen Walker
July 1, 2016
/
/
Comments Off

on Get to know your community leaders – A discussion with Aspen Walker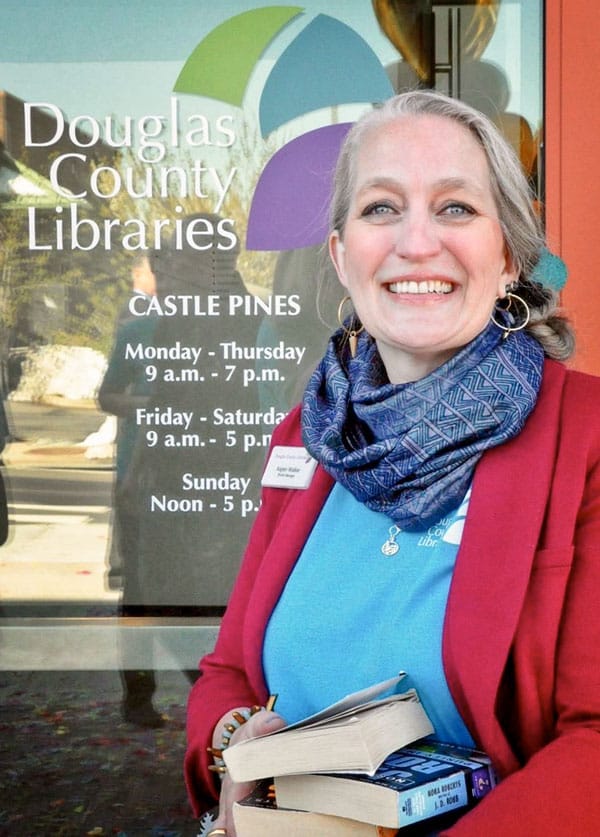 Aspen Walker, Manager of the Castle Pines and Roxborough branches of the Douglas County Libraries.
Article and photo submitted by the Castle Pines Chamber of Commerce
Are you a native to Colorado?
Yes, I'm a fifth generation Douglas County resident. I grew up in the mountains above Sedalia and still call Sedalia my home to this day.

How long have you worked for the Douglas County Libraries?
For more than 14 years.

What do you find most rewarding about your job?
I enjoy helping people transform their lives and grow closer to their passions and aspirations.
The new Castle Pines library is wonderful! What is something that people might not know about the new library? The library rates a LEED (Leadership in Energy and Environmental Design) silver standard for green building initiatives and environmental impact, but we chose to reinvest the money we would have spent on LEED certification right back into the building instead, to make it even better.
What do you enjoy most about Castle Pines?
I love the small town neighborly atmosphere, the people and the beautiful landscape!

Any "fun facts" about you that you would like to share?
In addition to a lifelong passion for libraries, I enjoy painting the beautiful landscapes of our county.

Tell me about your family.
I am married to a stellar musician and music teacher and am the mother of two smart and strong girls. Being a Douglas County native, I am lucky to live nearby much of my extended family. We love rescuing and fostering animals for adoption, so our house is always quite the menagerie.
Aspen divides her time between the Castle Pines and Roxborough branches of the library, both of which she manages, and always loves meeting with folks from the community. She may be reached at awalker@dclibraries.org.