Goodness and awe in a child's eyes
January 1, 2011
/
/
Comments Off

on Goodness and awe in a child's eyes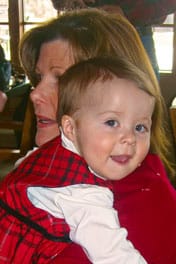 Even a tired little one has a smile after a fun time.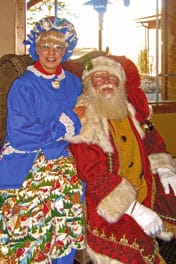 Santa and Mrs. Claus pose by the cozy fireplace.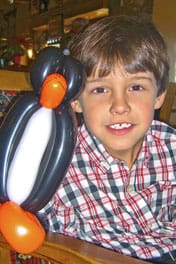 Penguin Pete and his new friend at the Santa breakfast.


The boys liked the light saber balloon sculptures.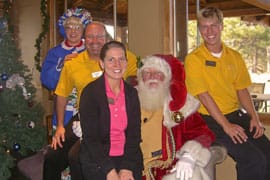 Ho, ho, ho…The Ridge staff joins in the fun.
By Patte Smith
Santa brought excitement and wonder for many children and their parents who attended the annual Christmas breakfast with Santa Claus at The Ridge. More than one hundred people attended the two breakfasts, which were sponsored by Sky Ridge Medical Center, GreenEarth Cleaners, CH2M HILL, IREA, and the Castle Pines Chamber of Commerce.
Families were treated to a yummy breakfast and a fun-filled morning. Santa and Mrs. Claus chatted with the kids and parents and put on a special show that had the little ones laughing, dancing and singing. Many of the children snuggled on Santa's lap to tell him what they wanted to find under the Christmas tree this year.
Wide-eyed and somewhat shy, they stared at the man with the white beard who dazzled them with his red outfit and kind words. One little girl asked for a guinea pig or a new little sister – mom nodded that she was hoping Santa brought the guinea pig! A balloon artist twisted, turned, tugged and tweaked animal shapes of all kinds for the kids.
And, a few interesting facts were divulged by Mrs. Claus. Did you know that Mrs. Claus' first name is Anwyn and that she was a princess before marrying Mr. Claus? The wedding of these two famous individuals took place more than 1,200 years ago. There are many reindeer at the North Pole, but only a certain eight fly with Santa on Christmas Eve, unless they need Rudolph to help when the weather is particularly bad. Can you name the eight?
Santa brings toys but he also represents the spirit of giving. In the true sense of giving, watching these children peer into the face of Santa in such a manner of pure innocence, expectation, and joy is a wonderful gift to behold.
Thanks to the Castle Pines Chamber of Commerce and The Ridge Restaurant for organizing this great holiday event!