Horseback Rides Available on Highlands Ranch's Wildcat Mountain Trail
August 1, 2008
/
/
Comments Off

on Horseback Rides Available on Highlands Ranch's Wildcat Mountain Trail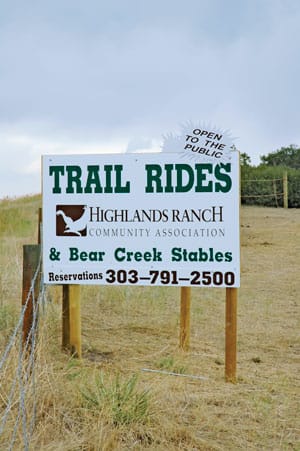 CPN residents may now enter the Wildcat Mountain Trail if they are willing to pay for a horseback ride. Access to the trail on foot or bicycle is still prohibited to CPN residents. (photo by Lisa Crockett)

by Lisa Crockett
It's been more than a year since Castle Pines North (CPN) residents clashed with their neighbors in Highlands Ranch over access to the Wildcat Mountain Trail, which is accessed off of Monarch Boulevard about halfway between CPN and Highlands Ranch.
The Highlands Ranch Community Association (HRCA), who previously only granted trail access to HRCA members, is now offering opportunities to non-residents to enjoy the trail – for a price.
The HRCA has teamed up with Bear Creek Stables to offer guided horse back rides, which are available to both Highlands Ranch residents and non-residents alike.
"Tuesday through Thursday, people can ride for $35 for an hour and Friday through Sunday, they can ride for $50 for ninety minutes," said HRCA's Manager of Open Space in Back Country, Mark Giebel.
Gieble recommends that riders make reservations at least 24 hours in advance by calling 303-791-2500. Riders must be at least eight years old and should wear long pants and sturdy shoes and should bring along a bottle of water.
Prior to construction of the trail, Douglas County required HRCA to have a traffic study conducted at the site. No additional signs or signals were deemed necessary, but traffic near the trailhead has increased. Drivers should exercise caution when driving near the trail.