Interested in networking and socializing? Come check out our new opportunities
June 1, 2016
/
/
Comments Off

on Interested in networking and socializing? Come check out our new opportunities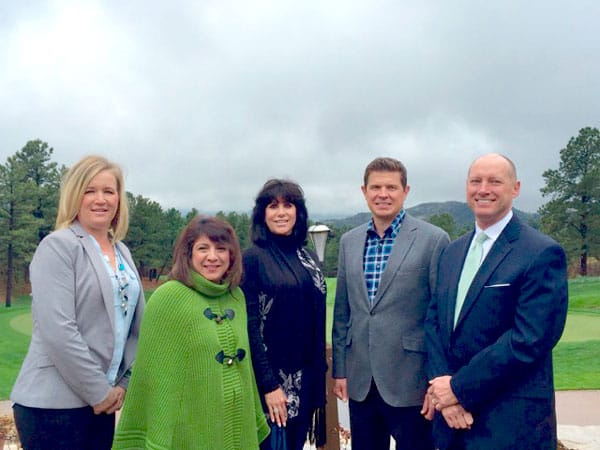 The M.B.A. and W.O.M.E.N. networking groups were the brainchild of five very active Chamber members, Dana Hall of Cherry Creek Home Loans, Charmaine Balcerzak of Charmaine's Bella and Colour Salon, Julie Gibbons of Live Well, Keith Dodd of Realty One, and Jeff Douglas of Mountain Storm Insurance.

Submitted by the Castle Pines Chamber of Commerce
The Castle Pines Chamber of Commerce recognizes that its member businesses are quite varied in their reasons for joining the Chamber. To that end, the Chamber is making a concerted effort to offer a wide variety of opportunities to its members so that each business may find success within the Chamber and within our larger Castle Pines community.
On June 8, the Chamber is hosting an event that will introduce two new networking groups to current chamber members and community members. Anyone interested in networking and knowing more about our business community is welcome to join us! The Men's Business Alliance (M.B.A.) and Women Owners, Managers, Executives Network (W.O.M.E.N.) will kick off with a joint networking event that allows attendees to network and socialize while supporting a wonderful cause. The event will take place at the beautiful Country Club at Castle Pines (CCCP) from 5:30 p.m. to 7:30 p.m., and all are welcome to join us for appetizers, a cash bar and a short presentation by Channel 9 health and wellness specialist, Dr. James Rouse.
The kick-off event at the CCCP will cost $10 and includes one drink ticket. Fifty percent of the evening's proceeds will be donated to The Kristy Lane Foundation, which offers support for children experiencing grief. Julie Gibbons, one of the organizers of the W.O.M.E.N. group remarked, "I'm so excited to meet other women who combine their passion with the contribution of inspiring others."
A core group of amazing Chamber members is excited to spearhead these groups, which will bring current chamber members and interested members of our business community together for monthly events in order to socialize, build camaraderie, and develop and strengthen business relationships. M.B.A. is planning events such as beer tasting, trivia night and poker night, and W.O.M.E.N. will be hosting events such as wine tasting, pizza making, and beauty night. "The M.B.A. is a very unique way to meet other business owners in the community," explained Jeff Douglas, one of the founders of the group. "I'm personally looking forward to the casual meeting atmosphere and the opportunity to support a local charity."
The two groups will meet individually on the second Wednesday of each month and will come together quarterly for a joint special event that provides an evening of networking and fun, and also raises money for a select charity.
For more information or to sign up for the event, visit www.CastlePinesChamber.com.