April 1, 2017
/
/
Comments Off

on Just Keep Swimming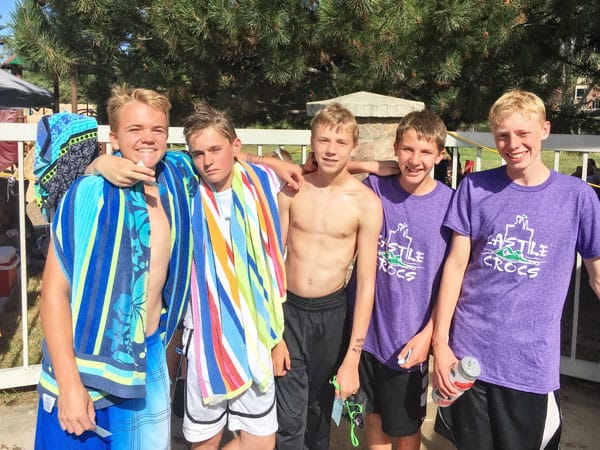 Castle Crocs have a lot of long-time returning swimmers, including these boys pictured last year (from left to right): Jack Nelson, Ryan Tierney, Ben Gardner, Caleb Jaramillo and Carter Brand.
by Kathy Fallert; courtesy photos
CASTLE CROCS
Castle Crocs (Crocs) are gearing up for their 11th season. The overall mission for the Castle Crocs is to foster a community through swimming and to provide a healthy, recreational experience that promotes swimmer development in a fun and positive way. Their mission statement says, "We strive to make the experience family friendly, convenient and affordable for all members."
The Castle Crocs hold their practices on weekday mornings at 7 a.m. and 8 a.m. out of the HOA2 and CPNII pools and participate in five dual meets. Fees are $160 for new swimmers and $135 for returning swimmers. The Crocs offer a discount for 15 to 18-year olds for only $25 per season. The season runs from late May until late July, which includes Championships and All-Stars meets for those who have qualifying times. There are also social events for the Crocs, such as Capture the Flag at the park and a pancake breakfast.
Crocs held their registration for returning swimmers in March. New swimmer registration will be on April 8 from 3 p.m. to 5 p.m. at the HOA2 clubhouse, 7306 Oxford Drive. Board members and coaches will be present. Swimmers between the ages of five and 18 years are eligible, provided they are residents of Castle Pines and can swim the length of the pool.
The Crocs have some long-time swimmers, including a group of teenage boys who have won their age group category every year in the league since they were eight years old: Jack Barton, Carter Brand, Caleb Jaramillo, Ben Gardner, Jack Nelson, Dalton Walker, and Ryan Tierney.
Tierney commented, "Castle Crocs, to me, has been a launching point for my love of swimming and a place to repair it after a long, arduous season. Since I began Crocs, every meet has been like a pool party, and after nine months of intense, year-round swimming, it is great to come back to enjoy the sport in its purest form and build younger swimmers' love of swimming through coaching."
The Castle Crocs hires junior and assistant swim coaches from the Castle Pines community. Interested people (ages 14 and older) can apply on-line at www.castlecrocs.com.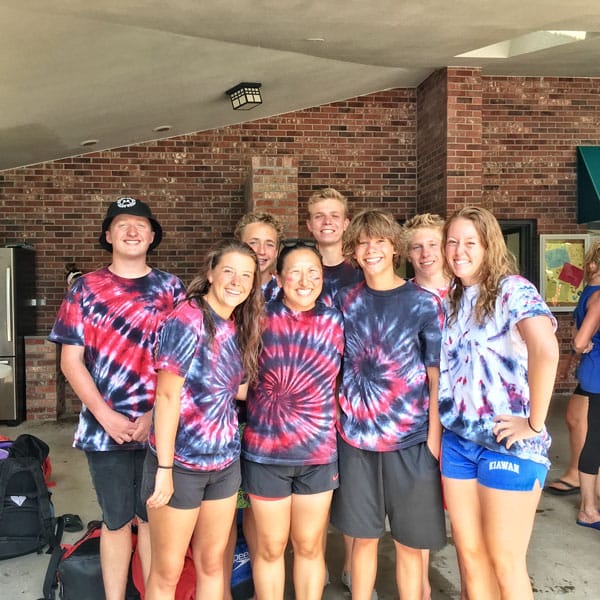 The Castle Pines Storm coaches (pictured from left to right): Front row: Rachael Stanek, Christina Kwon (Head Coach), Sam Isert, and Lauren McKeel. Back row: Fionn Cool, Jackson Willner, Jacob Brown, and Hayden Arnold.

CASTLE PINES STORM
The City of Castle Pines is home to a fast-rising summer swim team. Just five years ago, the Castle Pines Storm (Storm) was at the bottom of the D Division of the Mountain Hi Swim League. But with hard work and perseverance from both the swimmers and the coaches, the team has risen to the top of the B Division winning the 2015 division championship and coming in second place in 2016.
With all its success over the past five years, the team is eager for new families and swimmers of all ages and experience levels to join for a summer of fun. At the heart of the team is an experienced coaching staff that brings success and fun to the pool every day. The staff has 36 years of combined competitive swimming experience and 23 years of combined coaching experience.
The swim team started in 2009, and head coach Christina Kwon came to Storm in 2012 – starting the swim team's rapid ascent. In 2012, the team won its first ever dual meet and finished fourth in the D Division Championships (winning two age groups). Since then, the team has accomplished the following: 2013 D Division Champions, 2014 C Division Champions, 2015 B Division Champions and 2016 B Division Runner-Up.
Prior to 2012, Storm never had more than 10 swimmers qualify for All Stars. Since then, the team has gone from 13 qualifiers in 2012 to 37 qualifiers in 2016.
Storm accepts children between the ages of five and 18 who are able to swim one length of the pool (25 meters) without stopping or needing assistance. Practices are held weekdays at the HOA1 pool, 7233 Tenby Way. Practice times vary according to age groups. There are five dual meets for this tightly-knit team, as well as many fun activities including a 13 and over progressive dinner, a 12 and under bowling event with the coaches, a parent social, and a tie-dye party.
Storm will be holding a mandatory parent/swimmer meeting on Sunday, April 9 from 4 p.m. to 6 p.m. at the Eastridge Recreation Center, 9568 South University Blvd. in Highlands Ranch. Returning swimmer registration opened in March, and new swimmer registration opens Sunday, April 9. For more information, visit www.castlepinesstorm.com.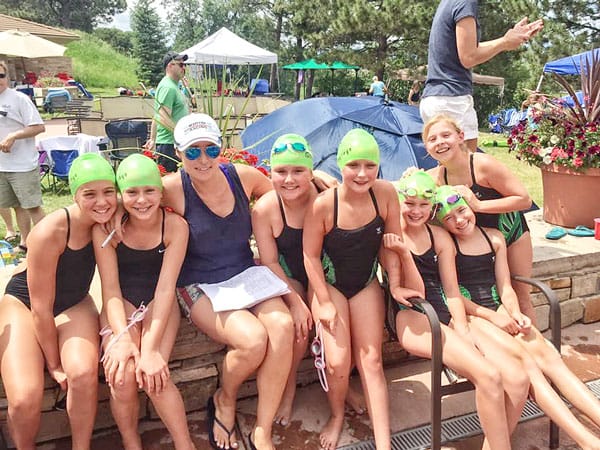 Pictured from left to right: Abbey Gardner, Sarah Meyer, Coach Marcy Hebbelinck, Mary Recine, Brooke Jones, Betsy Van Auken, Abigail Williams and Maddy Sova.
CASTLE PINES VILLAGE STINGRAYS
The Castle Pines Village Stingrays will be holding their registration on April 4 and April 18 from 4:30 p.m. to 6:30 p.m. at the Castle Pines Village HOA building. Stingray membership is open to children and grandchildren of Castle Pines Village residents who are between the ages of five and 18. They occasionally make exceptions for four-year-olds who are able to meet swimming expectations.
Each swimmer must be able to swim at least one length of the pool unassisted. Stingrays practice Monday through Thursday mornings and Friday afternoons at the Canyon Club swimming pool. The season will begin Monday, May 22 with tryouts and practice afterschool. Morning practices will begin May 30. The first swim meet will be Saturday, June 3, and there will be a meet every Saturday through July 1. Prelims will be the week of July 10, and Championships on July 15. The All Stars meet will be July 22.
The Castle Pines Village Stingrays summer swim team is looking to hire junior coaches for the 2017 season. Interested applicants should forward a resume and letter of interest to the coaches representative, Michelle Gilmore, at gilmorem26@me.com by Friday, April 14.