Leadership Douglas County teaches ins and outs of Douglas County
June 1, 2017
/
/
Comments Off

on Leadership Douglas County teaches ins and outs of Douglas County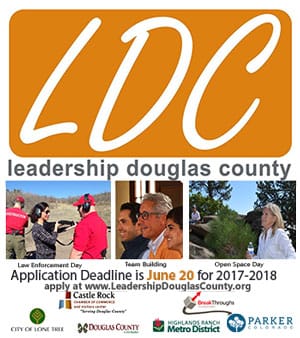 Information provided by Leadership Douglas County
Leadership Douglas County (LDC), a program of the Castle Rock Chamber of Commerce, is designed to bring diverse people together to enhance their experiences, perspectives and take their personal and professional leadership journey to the next level.
The communities within the county serve as the classroom. Participants learn through various channels, including presentations given by prominent speakers within the private and public sectors, in-depth dialog and team building, and experiential learning and other interactive experiences.
Leadership skills are emphasized in all learning activities and a significant class project is a key component of the program. The program begins with a kick-off retreat in September and monthly classes are held on the first Wednesday of each month, October 2017 through June 2018.
More than 300 participants have graduated from Leadership Douglas County since 1999. Alumni of LDC have gone on to hold leadership positions with nonprofits, serve on boards, volunteer in organizations and serve in elected positions with government at the county, state and national level. "Strong community leaders create strong communities. LDC is dedicated to creating a strong community by providing a program for leaders in all fields—whether that is the business, government or nonprofit sector," said Carrie Buchan, director of LDC. "Our community's greatest asset is its people, and the impact of great leadership on an organization's effectiveness is unmistakable."
LDC is currently accepting applications for participation in its 2017-2018 year with a firm deadline of June 20. Anyone who lives and or works in Douglas County is encouraged to apply early, as space is limited. The application is available online at leadershipdouglascounty.orgg. For more information, call 720-440-3726 or email info@leadershipdouglascounty.com.
Class of 2017 update:
The Leadership Douglas County Class of 2017 class project was to construct a 9/11 Monument. The class was able to obtain a piece of metal from the fallen towers in New York City that will be permanently mounted and on display in front of Castle Rock Fire Department headquarters, Station #151, located at 300 Perry Street in Castle Rock.
Saturday, June 10 at 10 a.m. there will be a ribbon cutting ceremony to commemorate this collaborative effort between LDC, the Castle Rock Chamber of Commerce and Castle Rock Fire and Rescue. The monument will stand not just to honor fire personnel who gave the ultimate sacrifice that day, but all the lives that were lost and all those who continue to serve and provide safety and security in every community across this great country.