Library Board Gives Green Light for Lease Negotiations
April 1, 2009
/
/
Comments Off

on Library Board Gives Green Light for Lease Negotiations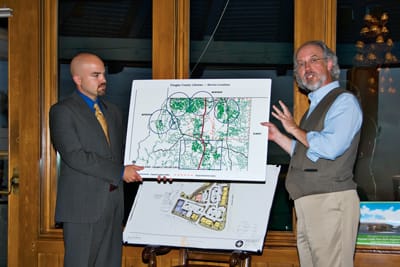 by Lisa Crockett
Another hurdle on the long route to a library for the Castle Pines community has been cleared. At its regular meeting on April 16, the Library Board of Trustees instructed Douglas County Libraries Director, Jamie LaRue, to pursue lease negotiations for a library space here.
"We are giving our permission to our library director to enter into lease negotiations and see if a library in Castle Pines North is feasible," said Board Member David Starck.
If negotiations are successful, the library will be housed in an existing retail space in the Village Square shopping center. The space is roughly 2,500 square feet.
If a lease is signed, the Board also identified a budget of roughly $150,000 to purchase materials for the library. Funds for the library budget in Castle Pines North (CPN) are proceeds of the sale of an acre of land from the Library District to the Castle Pines North Metro District in 2005.
LaRue hopes to bring a signed lease to the Board's meeting in May. "We have official approval to proceed, and a real budget, said LaRue, "but it isn't real till we have the lease."
Community volunteers and the Castle Pines Chamber of Commerce have worked tirelessly to raise funds for the library. To date, nearly $30,000 has been pledged toward the effort; the Chamber is seeking to raise at least $50,000.
For information on making a donation to the library, visit www.castlepineschamber.com. Read about volunteer opportunities and additional fundraising efforts in the upcoming June/July issue of The Castle Pines Connection.